As Paul's explained previously on the blog we worked hard to make sure URLs didn't break when we transitioned from the Directgov and Business Link websites. Although most people found Directgov and Business Link information through search engines, we wanted to make the transition as smooth as possible for users - and for everyone who's linked to Directgov and Business Link in the past and will link to GOV.UK in the future.
Doing this also meant we didn't think we needed to spend lots of taxpayer money on a big marketing campaign telling people about the new site - people don't need to do anything different to find the information they want.
But, we couldn't leave it at that. Most government departments had information on Directgov and Business Link, and many of them pointed members of the public towards those sites for information and services. Directgov and Business Link had a noticeable presence in lots of public-facing services. Job Centre Plus offices, call centres and information centres all featured URLs and staff that would guide people towards the website. They didn't need to change the URLs, but if they could it would make for a smoother experience for users.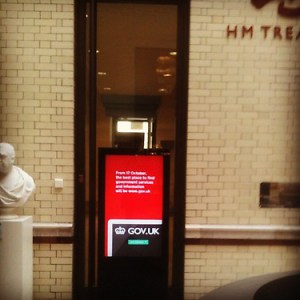 Over the last few months, we've helped them all prepare for last week's release of GOV.UK.
And, where possible, without spending any money, we've tried to reach out to our users via government channels and to tell them about the launch.
What have we done?
We've been working with people from Directgov, BusinessLink and across most Departments on communications plans for the move to GOV.UK and we've been finding out what channels they have access to - things such as Twitter accounts, mailing lists and public offices all play a part in reaching staff and users.
Departments provided detailed information on each of their areas and we've worked together to produce materials and content for use in Departments and on their intranets. We've had workshops over the past few months to work on draft messages, review the posters and web banners we're using, look at web content processes and prepare for the release. Wherever possible, we've been 'digital by default' in how we've delivered materials and informed staff, but sometimes the best way of reaching people has been to send departments things to print out and stick on the wall.
We met with some frontline staff across the country and got their feedback on GOV.UK - they looked at how they would use GOV.UK in their work and we were able to provide their feedback to the product manager at GDS to help with improvements to GOV.UK. For instance, they gave us great guidance on the top-level categories they thought their users would look for while browsing the site. We were also able to provide different versions of some of the posters for use across Departments.
The volume and complexity of the work some of the Departments have undertaken in the past few months has been huge and we'd like to thank everyone involved for their work so far.
We're now going to be reviewing our joint work with cross government colleagues over the past few months and will use their feedback to help support the next phase of GOV.UK.