Yesterday we released the latest version of the homepage. It's significantly different from any of the other homepages we've released so far, but it's the one that's tested the best and the one we're happiest with.
Back in April last year, when a small group of people were starting to think about an alpha for GOV.UK, the expression "Google is the homepage" was coined. This came from data that clearly showed users begin their journey on a search engine, usually Google, and then search for 'bank holiday' or 'minimum wage'. Ideally they then arrive at the page they're after with the information presented in a clear, simple way and then they finish their journey.
So we espoused the "Google is the homepage" mantra and created simple, clear 'landing' pages.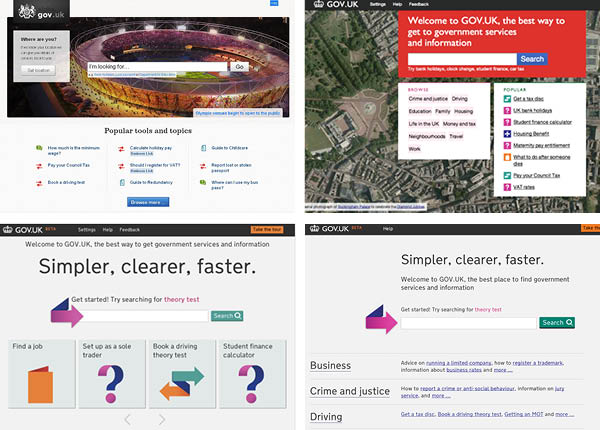 People often misunderstood this to mean we thought the homepage should look like Google. We compounded this problem by making the homepage look like Google. Partly this is because the alphagov team ran out of time, but it's also because we were thought that search would be the easiest way for people to find information, so we promoted that on the homepage.
But in testing the site, we started to find something else.
Over time a clear picture began to emerge from user testing. The people who visit the homepage do so because they are lost. They're not on the right page, and they're not comfortable using search, so they go to the homepage to try and help them find what they're looking for. By browsing, not searching.
We were right that 'Google is the homepage' for about 65% of users, but we needed an alternative for everyone else.
So we began to redesign not only the homepage but the bread crumb navigation, the category pages and the structure of the categories themselves, iterating on our original designs to help those people uncomfortable using search.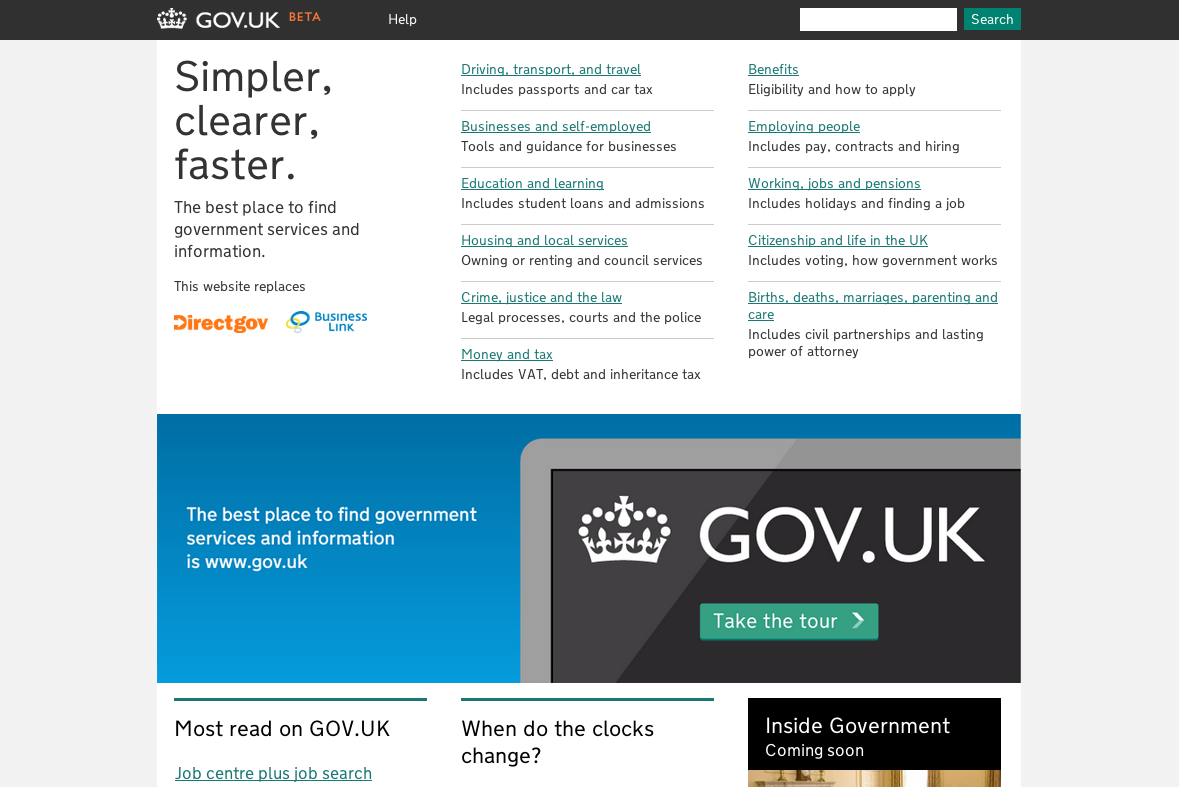 The homepage now contains a very clear, very simple set of categories that enable you to quickly find what you were looking for. It also serves as reassurance you're on the official government website, something else users who were lost required. The search box is still there in the top bar, and people who are comfortable with search know where to find it.
The new page tested really well.
This may seem like an obvious decision, too obvious to warrant a blog post. But this story illustrates one example of how we're analysing data, making product decisions, iterating, user testing, iterating again, user testing again, and then if we're wrong we change that decision.
We'll keep testing this homepage after it goes live on the 17th, to see how it stands up to millions of people using it every month. If we find it needs to change again, then we'll change it.