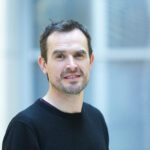 Alistair Duggin
Head of Accessibility at GDS.
Take a look inside GDS's new space created to improve awareness of accessibility and assistive technologies.
The GDS Accessibility team is here to make it easier for departments to build government services that are accessible for everyone. We want to ensure that there are no barriers that might prevent anyone from accessing a service.
I'm Alistair Duggin, Head of Accessibility here at Government Digital Service. I've been here for just over 7 months now. My job is to make sure that GOV.UK is as accessible as possible.