The gender pay gap is the difference in average hourly pay between men and women. All organisations with 250 or more employees have been legally required to report their gender pay gap annually since 2017.
In January 2020, the Cabinet Office reported its median gender pay gap as 8.8%, which means that women in the Cabinet Office earn 91p for every £1 that men earn.
With GDS accounting for just over 10% of the Cabinet Office headcount, the GDS Women's Network wanted to know what the GDS-specific gender pay gap or problem areas were. We can't change the gender pay gap across Cabinet Office, but we can work to address disparities within our organisation through improving our policies, ways of working, recruitment and employee retention.
The GDS Women's Network promotes diversity and equality in the workplace. As part of this we have working groups to tackle specific areas, including career progression, training and mentoring, and pay transparency. 
Uncovering the GDS gender pay gap 
Our Pay Transparency Working Group decided to investigate, alongside the GDS People Team.
Our aim was to identify the biggest contributors to our pay gap and areas for improvement.
With the help of the GDS Operational Data & Tools team, we combined data from a centralised Cabinet Office database (gender, salaries, allowances, and pay bands) with more detailed information about individuals' roles from a GDS database, looking specifically at:
the number of employees

the mean and median gender pay gaps

the percentage of employees with allowances in each gender
We then looked at how these figures varied by pay band and directorate and whether or not the employees were in the DDaT profession. We also considered the relevant community of practice such as software engineering or user research. 
Gender pay gap dashboard
We built a gender pay gap dashboard using Python to make our analysis more reproducible, using the dash package to allow users to filter the data and select what dimensions to split it by. We modelled it on the gender pay gap service, which showcases the most effective way to present the gender pay gap.
As pay is a sensitive subject, we also made sure the dashboard only reports gender pay gaps for groups with at least 5 people in each gender, so that individual salaries could not be worked out from the pay gap data.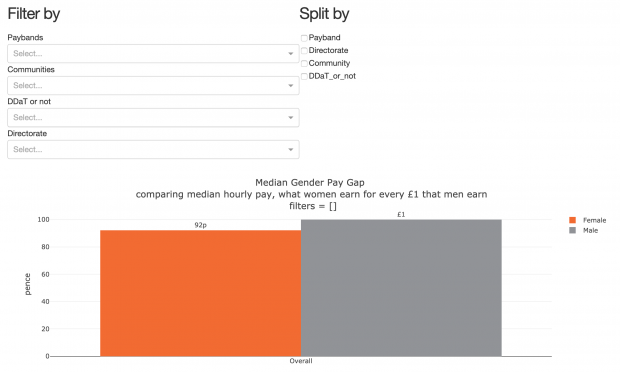 Tackling the gender pay gap
At GDS the median gender pay gap was 7.8% as of December 2019 - which means that GDS women earn 92p for every £1 men earn. One reason for this is the fact that women at GDS tend to be in more junior roles (and therefore lower pay bands) than men, despite GDS having 48% women at senior civil servant level.
Guidance from the Government Equalities Office (GEO) on how to understand our gender pay gap and actions to close the gender pay gap helped us develop a gender pay gap action plan. This plan sets out steps GDS has committed to taking to reduce our gender pay gap, including:
improving processes to make taking

parental leave

easier

promoting

flexible working

for all genders

reviewing our recruitment and talent processes to attract and retain women in digital roles
Our new Gender Pay Gap working group, with members from the GDS Women's Network, heads of community and the People and Recruitment teams and supported by senior leadership at GDS, have been tasked with implementing this plan.
What's next?
We have a first version of our action plan, but there is still work to be done: 
looking at the data in more detail

measuring the effectiveness of our actions

coming up with new ways to address the gender pay gap
We also still need to analyse the bonus pay gap and look at the percentage of men and women in each pay quartile.
Research has shown that other protected characteristics, such as ethnicity or disability, affect pay. In future we want to analyse the pay gaps for different underrepresented groups, taking inspiration from organisations such as The Environment Agency.
GDS is a great place to work, but we want to make it even better. Our work will help us achieve this aim.
Further reading
The Civil Service, like many other organisations, is working to close the gender pay gap in order to make it a brilliant place to work for all genders, where people have fair and equal opportunities for jobs, career progression, and pay.
The Government Equalities office commissioned this report looking at how different ways of presenting gender pay gap figures affect understanding and attitudes.
You may also be interested in this toolkit for employers looking for advice on how to understand and address their gender pay gap.
GDS is hiring, take a look at our careers site. The Women's Network will also take over the GDS Instagram account from Sunday, to celebrate International Women's Day. You can follow along from our profile page.