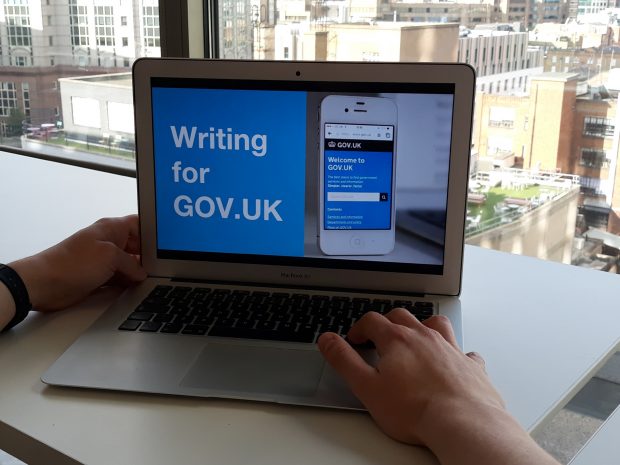 Content design is one of the User-Centred Design (UCD) professions in government, alongside service design, graphic design and user research. There are more than 2000 content designers in government working on GOV.UK, digital services and products.
At the Government Digital Service (GDS) we use a community model of learning and support. We create opportunities for UCD practitioners across government to build and share knowledge together as peers. For example, our large scale learning festival ConCon, regular cross-government design critiques, mentoring networks or online conversation spaces like Slack.
Educational academics Jean Lave and Etienne Wenger describe a community of practice as "a living curriculum".
Supporting a growing profession
We're a small team, supporting a large and growing profession, in a complex environment. So we have to design learning experiences that can scale up and adapt quickly as learning needs evolve.
One of the programmes we run is the required learning to get a publishing account on GOV.UK. This covers how to write user-centred content and how to use the GOV.UK publishing system.
Last year around 500 people attended, and numbers are set to increase this year as government departments prepare for the many content changes anticipated because of the UK's exit from the EU.
The required learning for publishers was delivered as a 2 day, face-to-face classroom based training course. It had positive feedback from attendees on the content of the course. But it was causing an issue because:
it was taking a disproportionate amount of time to deliver for so many people, taking capacity away from the support of ongoing learner journeys for content designers as the profession matures
it was impossible to scale up and we could not have run more sessions
it was no longer meeting learner needs as learners were asking for more use of digital tools, opportunities to learn closer to where they were based and more practical activities
Redesigning the required learning for GOV.UK
We created an application and triage process to analyse and manage demand for places, instead of first-come, first-served booking. This means we can prioritise places for teams with urgent publishing needs.
'Writing for GOV.UK' is now an online module. New GOV.UK publishers can complete it at their own pace, in their own location. It contains a mix of materials including videos, links to articles, practical tasks, quizzes and an end of module assessment.
Learners have said:
"This new course offers the chance to focus more and think about the task independently."
"The e-learning gave me time to really immerse myself and absorb the information."
'How to Publish on GOV.UK' is now a half day classroom session, focused largely on hands-on opportunities to practice using the publishing tool with real world scenarios. It's now being offered in GDS Academy locations around the UK.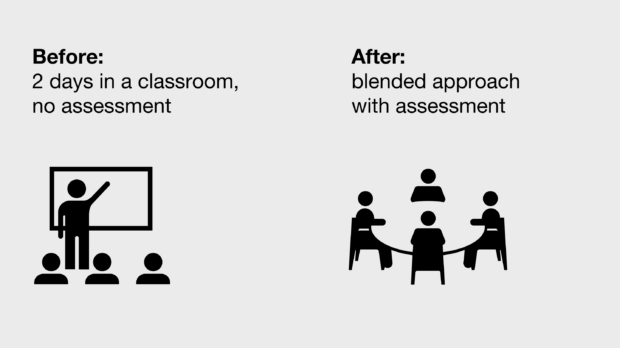 We're also building an associate trainer network by partnering with skilled content professionals in departments across government to deliver this classroom session. So far we've worked with the Intellectual Property Office (IPO), Department for International Trade (DIT), Department for Exiting the European Union and the Foreign and Commonwealth Office.
Theresa Fleming, IPO's content lead, described the associate trainer opportunity as "a welcome evolution in our offering", being able to build capability within their communications team and organisation.
Kay Southall and Mark Hazelby, joint head of content at DIT also welcomed the opportunity to run training sessions to meet demand, saying it was great to be "part of a cross government community of practice that will help to quickly build capacity and capability in DIT".
When someone completes the course and receives their GOV.UK publishing account, they are welcomed to the cross-government content community and offered ongoing opportunities to contribute and learn.
We can now:
support 4 times as many people to start publishing on GOV.UK with no additional trainer time
see upcoming demand and schedule classes closer to where learners are based
spend more time helping content designers learn across their whole career, not just at the start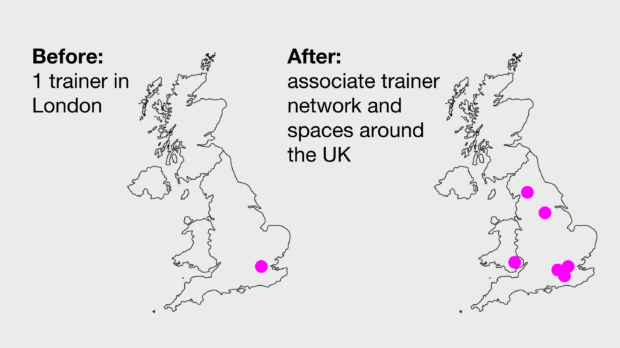 What we're doing to continue building the profession
We are refocusing the team away from delivering training and towards a broader learning design approach. This is so we do not make the assumption a new classroom training course is the answer to all the learning needs for the profession. And to allow us to collaborate more closely with the vibrant community of practice.
Feedback on the newly designed GOV.UK publishing course shows learners are marking it 4 out of 5 on average. But 30% of learners are finding it too long or too text based. So we will be iterating it from the next quarter based on user feedback and in collaboration with members of the content community.
As the new simpler, data-informed publishing system is rolled out, we'll be able to access data to tell us what the learning needs are across the publishing network, so we can design more focused learning interventions.
We will look for ways to share the online 'Writing for GOV.UK' course more widely to help more people understand the value of content design. We know there is a demand from other government professions and public sector organisations.
We will also be looking at the content designer end to end learner journey across their career and designing a variety of ways for them to learn what they need to know, when they need to know it.
Laura Billings is a community manager at GDS. Follow her on Twitter.