At Sprint 18 last week, Oliver Dowden MP CBE, Minister for Implementation, launched the first competition of the £20 million GovTech Fund.
The competition, which will aim to address the Home Office's 'Daesh' challenge, is now open for applications. You will find details of how to apply below.
What is the GovTech Fund?
The fund, which was launched in November 2017, helps private sector innovators tackle public sector problems.
In the first call for challenges, the GovTech Catalyst team received 51 submissions from across government departments and local authorities. You can read the full list of submissions here.
The winning companies will be awarded up to £50,000 to develop their ideas, with a further £500,000 available to continue development and test solutions. The money for 15 challenges will be available over 3 years.
The first competition: the Home Office's 'Daesh' challenge
Terrorist group Daesh uses both video and still imagery to recruit and radicalise people online. So far, the Home Office has been very good at identifying the video with up to 99.995% accuracy, but hasn't been able to achieve that with still images.
And with 80% of Daesh propaganda being still media, it's imperative to solve this issue.
We know we need help from the outside – from private, innovative tech companies who are able to offer new technological solutions to public sector issues – to solve this and similar challenges.
That is why the GovTech Fund was set up.
Speaking at Sprint 18, GDS's flagship event, Oliver Dowden said:
Now that the GovTech Fund, the first of its kind, is active, I am excited to see the difference it is going to make in stimulating this emerging market: helping both the public sector – by solving problems across organisations – and the private sector – by helping innovative companies develop their offers.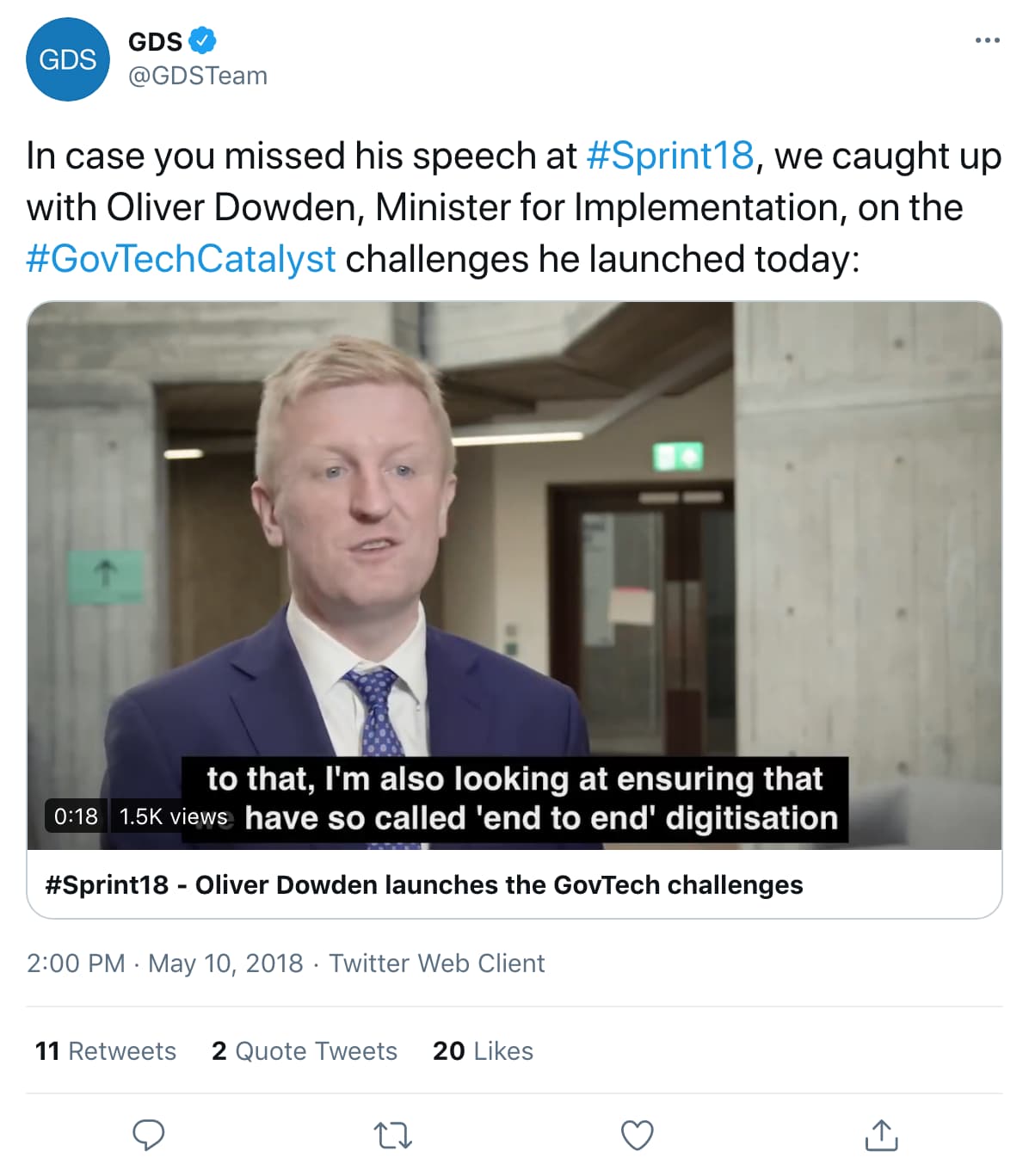 How to apply
Companies can pitch using the Innovation Funding Service, which has all the details on how to apply, funding, project scope and challenge context.
Key dates
Here are some key dates for the competition to address the Home Office's 'Identifying Daesh still imagery' challenge:
20 June: registration for this competition closes
27 June: competition closes
31 August: applicants notified
30 September: phase 1 contracts awarded
30 September:

feedback provided
The other 4 winning challenges
At GDS's Sprint 18 event, Oliver Dowden also revealed the other winning challenges of the GovTech Fund.
The next challenge to be revealed, after the Home Office's 'Daesh' challenge, was from Defra, which wants help in finding a technological approach that could help record, check and track waste.
The third challenge was from Monmouthshire Council, which would like to find a way to spot vehicles with spare capacity to help tackle loneliness and rural isolation.
The fourth was submitted by the Department for Transport and the Royal Borough of Greenwich. They want innovative solutions to cope with road traffic congestion.
The fifth was a joint application from Durham and Blaenau Gwent councils on how they can use service vehicles already in use to help spot real-time issues with smart sensors.
The assessment panel was made up of representatives from the Department of Business, Energy and Industrial Strategy, GDS, the Department for Digital, Culture, Media and Sport, HM Treasury and Innovate UK.
Key dates for the other 4 competitions
The other 4 challenges will be launched as competitions on the following dates:
Tracking waste through the waste chain (opening June 2018)

Tackling loneliness and rural isolation (opening July 2018)

Cutting traffic congestion (opening August 2018)

Deploying smart sensors on council vehicles to improve services (opening September 2018)
Companies will be able to pitch using the Innovation Funding Service, which will have all the competitions in due course.
What did people say on Twitter about the winning challenges?
People were very excited to hear the winning challenges at Sprint 18. Here are just some of the tweets posted on the day: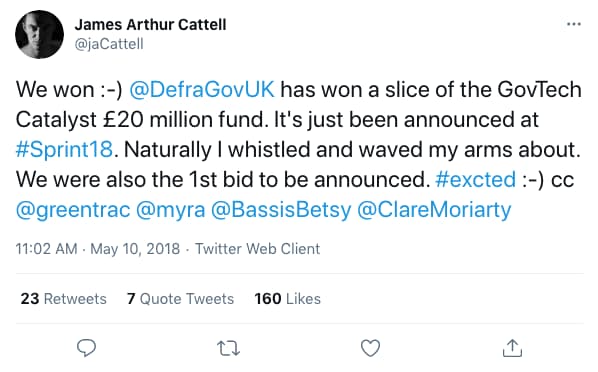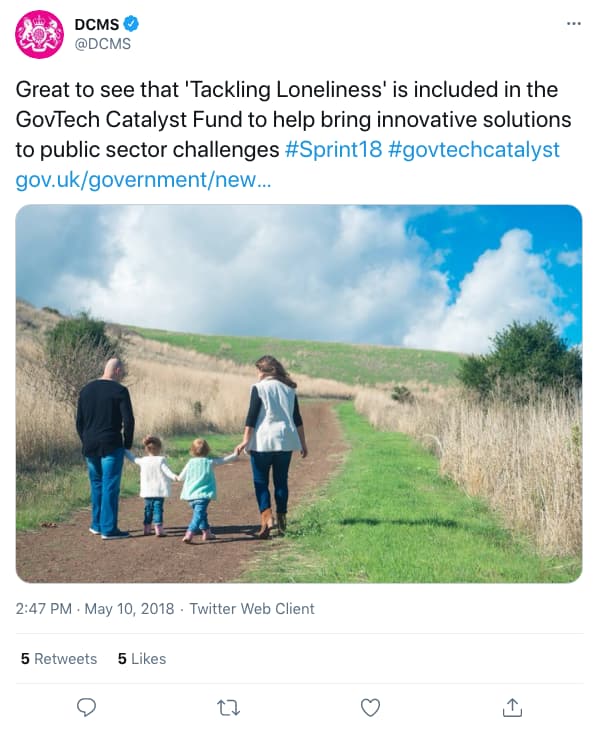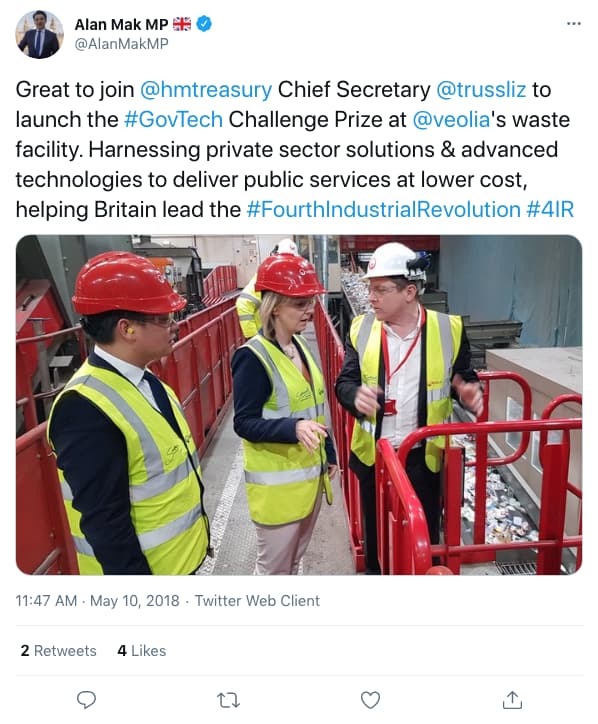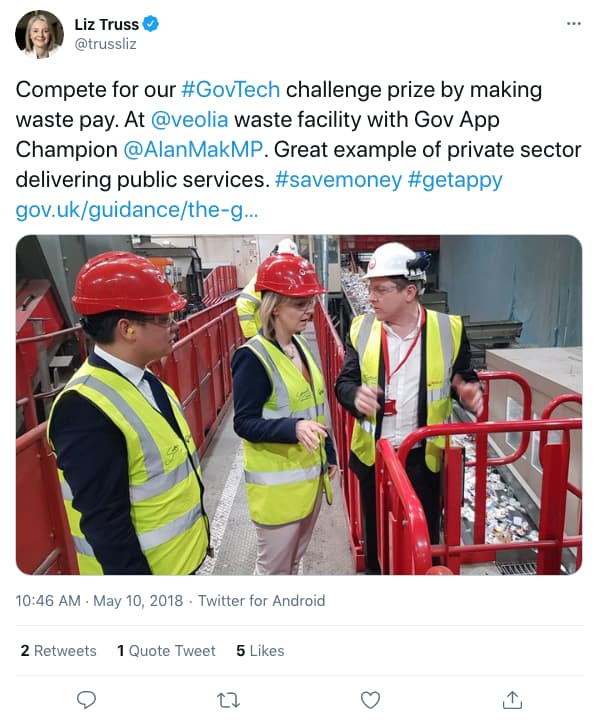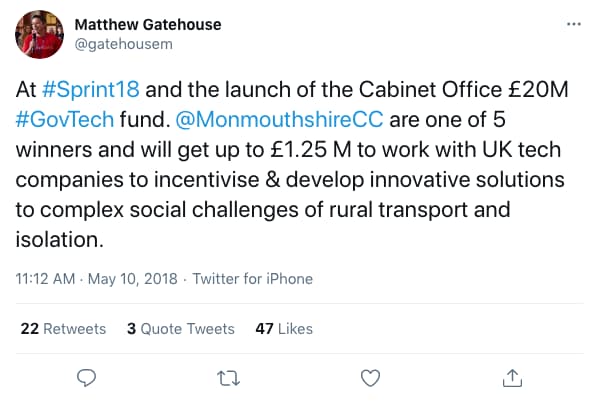 GovTech monthly meet-ups
To find out more about the GovTech challenges and meet up with selected companies, come along to the GovTech monthly meet-ups. These take place on the fourth Thursday of each month and will be a mix of short talks and updates on the GovTech Fund challenges and funding rounds.
The meet-up series is an initiative between GDS Innovation and Digital Leaders, and it will bring together over 200 innovators in the public and private sectors each month to discuss, share, network and collaborate.
The next two meet-ups will take place in London on 24 May and 28 June.