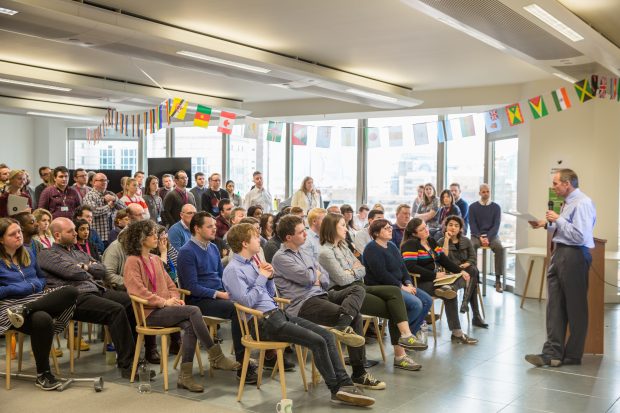 Earlier this month I visited GDS staff in the White Chapel Building with my senior management team. I was last there in the summer – and it was great to see everyone now fully settled in. The office felt like home.
We celebrated  the first anniversary of the Government Transformation Strategy. A year ago, we set out our vision for transforming the relationship between citizens and the state – from the smallest transaction right up to major reform: producing 21st-century solutions that make a real difference to the lives of the people we serve.
This is even more important given the EU Exit implementation challenges that we now face. To do this well, we will need to adapt how we operate, right across the government. And with most of the 150 priority EU Exit projects requiring technical expertise or tools, GDS is at the very heart of efforts across government to accelerate and assure this delivery.
But it is also transforming government as it goes.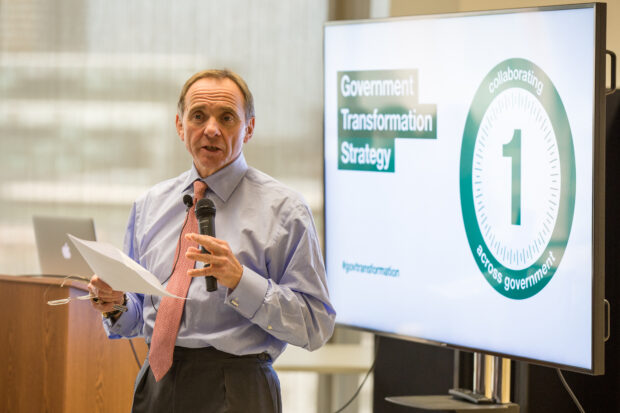 It is building skills – with over 7,500 civil servants having gone through the GDS Academy so far, and the career framework for digital, data and technology specialists across government. This will help us to recruit and retain the best people, and give them interesting and stretching careers.
GDS is building shared platforms for digital services, helping to make processes such as online notifications and payments easier and quicker.
It is equipping us all with the right tools for delivery, including supporting more flexible, collaborative and productive working through the provision of wifi in new hubs in many of the major cities across the UK.
GDS has taken forward legislation to help make it easier to share data sets within government, as well as driving a series of pilot data analytics projects with departments to prove what is possible.
As always, there is more to do – and I know the teams are also working hard to get nearly 100 services online by 2020 and to launch a new and exciting set of programmes and activities for the GovTech fund. And much, much more!
To deliver EU Exit, GDS has risen to the challenge. What I saw was an organisation buzzing with ideas, not afraid to break the mould, and working hard to deliver a real difference to the way government works.
We will pick this up again at the Sprint 18 event in May – I look forward to seeing many of you there!