I am one of the trainers here at Government Digital Service and I work alongside Brij Thakrar. Our role is to train people in departments and agencies how to write and publish to GOV.UK. We take people through the GDS focus on user needs so they can understand how it will apply to their content and information.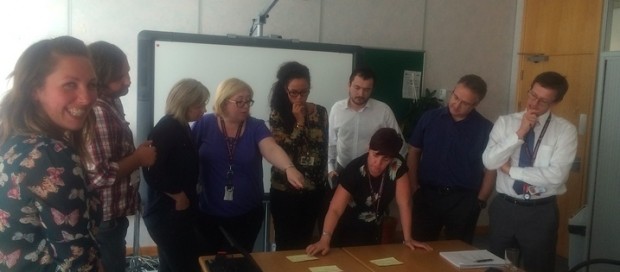 Spreading the word
We've provided training, support and access to more than 1,000 writers across government, who have published more than 120,000 pieces of content to the site. The word about user needs and transforming content has spread from the people we've trained to their colleagues and wider teams. The training is now so popular even people who aren't in digital teams want to understand user needs and how to write for the web.
More than a copy and paste job
Moving 300+ departments and agencies to a single platform meant we had to think carefully about the needs of our users. What information were they coming for? How did they expect to find that information? What frustrated them about our content?
Moving to GOV.UK means organisations have to transform the way they talk to users. Copying and pasting existing content is not an option. We have to help people understand that putting their users' needs ahead of government needs is the right thing to do.
Changing the way we think about content
We also want to change the way writers think about content. If you've worked with content you'll know it can be difficult to look at objectively. There is history - and sometimes emotion - between the lines, and knowing where to start can feel overwhelming. Policy, legacy and a culture of 'this is the way we've always done it' can get in the way of simple, clear communication.
We designed a series of training courses so we can talk about why, and how, GOV.UK puts user needs first and how this applies to content. Brij Thakrar built courses on how to use the publishing system and analytics to make sure content was easy to find in search engines. I wanted to give the reasons for GOV.UK style guide decisions and point out what may be different to what people are used to. Many of these decisions were based on learnings from the user research team at GDS.
Observing and iterating
By observing people using GOV.UK, we can reassure training attendees that users are able to find and use information successfully. One thing I've noticed is how the structure of the content has an effect on how quickly users are able to understand it. I created an exercise to demonstrate how we can use user needs and acceptance criteria to help make decisions on how to structure content.
The content and publisher training sessions started with an alpha - just like GOV.UK. We gathered feedback, learned from it, and iterated the courses. We then moved our training into beta and repeated the feedback, learning and iteration cycle until we moved into 'continuous improvement'. Questions from these sessions mean we are able to adapt the training so it is relevant to agencies before, during, and after transition to GOV.UK.
Users first
As Martha said: 'revolution not evolution'. Our training is building the skills of teams across government so users are considered first and content created with them in mind.
Follow Christine on Twitter, and don't forget to sign up for email alerts.
---