Lorena Sutherland, content lead for Office of the Public Guardian on GOV.UK, talks about the Plain English ethos of writing for GOV.UK.
Download the poster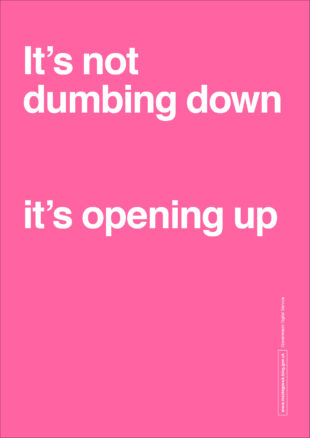 You can download the poster for from here.
Join in the conversation on Twitter @gdsteam, and don't forget to sign up for email alerts.
---
Transcript
Lorena Sutherland: I'm Lorena Sutherland and I'm the content lead working with the people at the Office of the Public Guardian. I did a workshop at Sprint Go on Standards and Style in GOV.UK.
The big one, and the one I actually bet everyone in the room a million pounds they would hear, is that they'd be told they were dumbing down at some point.
It always blows the top of my head off when people say that because I think it's so incredibly rude. It suggests that there's only smart people that we're interested in writing stuff for but actually the point about plain English is that it's a subset of all the English. So as long as you're giving people plain English, you know that anyone who understands all the English can understand it.
But the benefit is that by making it plain and making it simple you get more people understanding what you're saying, and this is really important because people don't want to interact with us as a hobby, they have to interact with government or with agencies for some reason or another so we should make it as simple as possible for them and as inclusive as possible - it's democratic.
If you look at this use of plain English it's not dumbing down but actually opening up government information to all.