Just before Christmas we released dates for the next four cohorts on GDS's Service Manager Induction and Development Programme.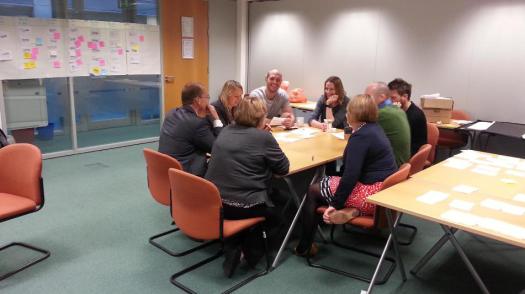 During 2013, we took the programme through discovery, alpha, beta, and into live. We reached 30 service managers from 11 departments, who between them cover 15 of the exemplar transformations.
As Paul Slade blogged back in October, each group spent up to 8 days with us at Aviation House, taking part in sessions on putting users first, being agile, and building the team; as well as more specialist topics such as assisted digital and identity assurance.
We're really grateful for all the participants' feedback which is helping us continue to improve the programme.
Gathering feedback
In the follow-up survey to the alpha and beta, service managers told us the programme made a big difference to their network, confidence and knowledge as service managers. They appreciated hearing from experts who have real-life experience of running digital services in government. And they enjoyed the practical exercises and case studies.
Among their comments:
"[The programme] gave me the evidence and the confidence to challenge 'short cuts'... to encourage more focus on regular user testing and change throughout."
"Improved my knowledge and confidence in the agile delivery process… I am now mentoring other delivery teams and facilitating workshops."
"I feel confident articulating the service manager role to others."
What's next
We'll continue running inductions in small cohorts of up to 10 service managers who can get to know each other and tackle issues as a team. We've also invited programme alumni back in to network and share their experiences with each cohort.
For all new service managers on exemplars and 100,000+ transaction services to take part in the programme, we estimate up to 150 participants by Q2 2015.
To make the programme more flexible and open to a wider range of participants, we've divided modules between two formats:
Induction programme - 4 days to equip newly appointed service managers with the basic knowledge, network and confidence to take the lead in transforming digital services.
Open programme - 3 days of more specialist modules to help you succeed and improve in particular areas of the Digital by Default Service Standard.
All newly appointed service managers should book to attend both the induction programme and all 3 days of the open programme. More experienced service managers or others in specialist roles in government may choose to book onto any or all of the open programme modules.
See the Service Manual for more information about the programme in 2014, including a link to request your place.
Follow Matt on Twitter: @mattedgar, and sign up for email alerts here.
---
You may also be interested in:

A checklist for digital inclusion - if we do these things, we're doing digital inclusion

How we do user research in agile teams