Blogging makes it easier for government to talk about its work, share information and ideas, and connect with those with a common concern.
A few months ago, we launched the new GOV.UK blogging platform - which is designed to help people from within government blog as easily and cost-effectively as possible.
It's a space which any government organisation can use to write about what they're up to, or to develop practice or theory in a particular field.
We thought we'd tell you a bit more about the platform and the blogs already on it - and, if you're reading this from within government, help you think about whether it's the right space for you.
Blogging in government
We developed the GOV.UK blogging platform with a close eye on the types of format that were already working well in government.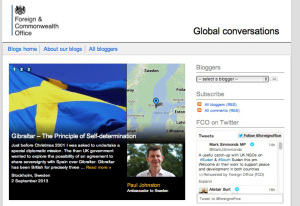 For example, we worked hard to understand the needs of colleagues in the Department for International Development and the Foreign and Commonwealth Office, who have excellent and well-established blogs, providing personal testimony to the work they're doing in different countries. We referenced the superb digital blogs from our colleagues at the Department of Health and the Department of Business, Innovation and Skills.
And we've also looked within our experience - we've used the GDS blog to show how the GOV.UK site went through its journey to launch and beyond; talked about our shift to fixing transactions; and admitted when things haven't worked.
But not all government organisations are as well set up to blog - and there are clear economic benefits to sharing blogging capability. Our blogging platform - developed in WordPress using a company on the G-Cloud framework - is designed to be highly scalable. It's also robust, secure, and free to use for any government organisation who can meet a few basic criteria for using it.
The platform's also designed to keep pace with the main GOV.UK platform - such as sharing a look and feel, and method of signing up to email subscriptions - so that users will have a consistent experience on GOV.UK no matter where they begin their visit.
Who's blogging already?
A quick look at some of the dozen or so blogs already live on the GOV.UK blogging platform gives a pretty good indication of the opportunities offered.
For example:
DVLA's digital transformation blog on GOV.UK

every digital exemplar project is encouraged to set up a blog to tell the story of their product development, and to share their learnings - DVLA and DWP are first off the blocks, but there will be plenty of others joining shortly

our own Inside GOV.UK blog, for people who publish content to the GOV.UK site, discusses what we're working on - for example, finding better ways of showing related content

the Civil Service Quarterly blog contains detailed, unique insight from within the civil service - such as how to improve charitable giving through behavioural insight

VOSA's Matters of Testing blog on GOV.UK

VOSA's Matters of Testing blog for the MOT testing industry showcases a few MOT horror stories such as this one, discovered by Binny from Chana Car Centre (pictured right)
We're also particularly proud of the History of Government blog, which has, for the first time, given the government a single place to talk about its history. Curated by the National Archives, it features contributions from across government and from a number of leading historians, supported by the History and Policy Group at King's College London.
Can you guess, for example, which former prime ministers volunteered to pay for an ironing board themselves or found the prospect of:
"a woman's intrusion into the House of Commons as embarrassing as if she burst into my bathroom when I had nothing with which to defend myself, not even a sponge". (answer here)
What next for GOV.UK blogs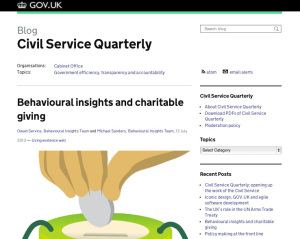 We're keen to make our blogs a more integrated part of the main GOV.UK site - and to make it possible, for example, for departments to feature blogposts on their homepage, and for relevant blogposts to turn up in the GOV.UK search.
We've also got a bit more work to do to help those departments who'd like to move existing blogs over to our platform, to do so.
And of course, like every other bit of GOV.UK, we'll continue testing and improving the product itself.
If you're from within government and you'd like to know more about setting up a blog on GOV.UK, then you can find out more in (can you guess...?) our blogpost here.
Follow Graham on Twitter: @gkfrancis