Last night GDS hosted the first in a series of events to increase awareness, and participation in, the open standards process. It was held at  The Hub, a venue in Kings' Cross. We want your help to identify the specific open standards that will most benefit users of government technology and services.
Liam Maxwell outlined the goals of the open standards principles in transforming government services, the principles and process were presented in more detail by Linda Humphries and Hadley Beeman followed by a panel discussion moderated by David Cotterill.
It was nice to be able to respond to some of the discussion points by citing pages on GOV.UK such as the service design manual, the transformation programme the performance platform and, as always, our design principles which guided the criteria used for assessing open standards, in particular: putting the needs of the user first and make things open, it makes them better.
Ultimately, most of the questions from the audience, especially those involving individual standards, could be answered with encouragement to participate in the process.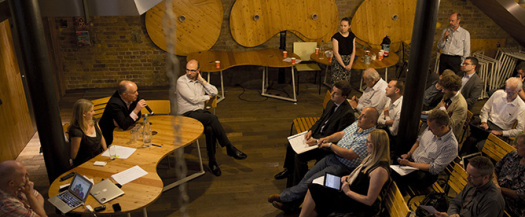 Get involved
The Standards Hub is the place to submit, comment upon and provide evidence for challenges to open standards.
Engaging on the Hub will help build the community, and where an individual challenge is proving difficult, you may also help us form a working group.
Get more involved
There are two panels being created to coordinate the evidence and proposals arising from the challenges, evaluating them and providing advice to the open standards board. The board makes recommendations to Liam, the chair, for approval. Essentially one panel will specialise in technical formats and protocols and a second will concentrate on issues surrounding the semantics of content.
The panels will meet regularly in person, probably in and around London but we can arrange remote access such as video conferencing or phone conferencing facilities for those unable to travel. A call for volunteers to participate in the panels is open until 10am on 30 September, and if that wasn't enough, there are periodically calls for volunteers to sit on the Board itself.
The success of the whole process depends almost entirely upon your participation, so please help us to use the right open standards to make government services better.
Keep an eye on the blog and @GDSTeam to find out when the next event will be.