The New Zealand Government Online team has released a sneak preview of their new beta, designed to replace newzealand.govt.nz. Their design mockups look vaguely familiar: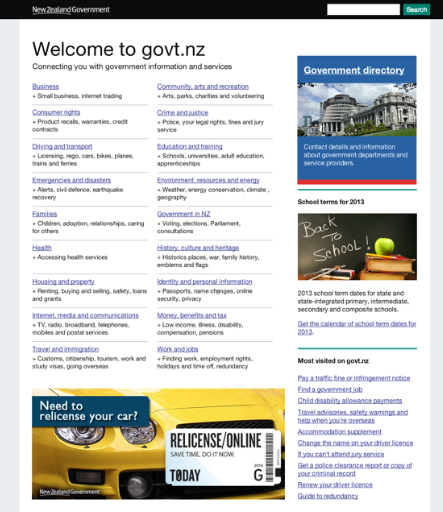 Several GOV.UK makers have given the team advice, covering everything from department directory data to the entire GOV.UK scope (well done Ross Ferguson and Lisa Scott for summarising this in a couple of paragraphs!). The NZ team have also scoured our blog, the Government Digital Strategy, the Government Service Design Manual, and any other bits of guidance we could provide. They've researched the strategies behind government sites around the world, and GDS gets a special mention on their preview site.
The most obvious GOV.UK influence is on the design - and with GDS's policy of coding in the open they were able to use our front-end code. Recycling our work has enabled them to save huge amounts of time, and a considerable amount of money. Initial user research revealed that 70% of people like the design or have a neutral opinion, which is a great result for a new release.
We're looking forward to sharing more work and user-feedback in the future, so we can improve sites for citizens in New Zealand and in Britain.