University of Salford student Andrew Langhorn recently got in touch with us to chat about his dissertation on the UK government's approach to digital. We asked him to write a few words about what it's like to study a live service like GOV.UK.
Along with 'we're out of beer', '9am lectures' and a handful of other equally worrying phrases, the word 'dissertation' strikes fear into the hearts of many university students each year. In the past the concept of 'online service delivery' probably sparked a similar fear in the heart of many governments. I set out to try to tackle both simultaneously, by writing my dissertation on digital government in the UK.
Whilst my friends had their noses deep inside books about the Second World War, or Marx and his Communist manifesto, I was subscribing to RSS feeds, reading blogs, and actively researching government online services.
White papers, speeches and other publications form the basis of e-government theories and initiatives. After a few days of research, I found Martha Lane Fox's somewhat legendary report on Directgov. I was excited to learn that her ideas hadn't just been left on the back-burner, but in fact they'd been implemented by the Government Digital Service (GDS).
So far, so good, you're thinking? Largely, yes. One of the greatest things about GDS is its commitment to work openly, and to collaborate with colleagues across Whitehall and in the private sector. But for someone writing their dissertation, openness and honesty come at a price; constant revision and rewriting.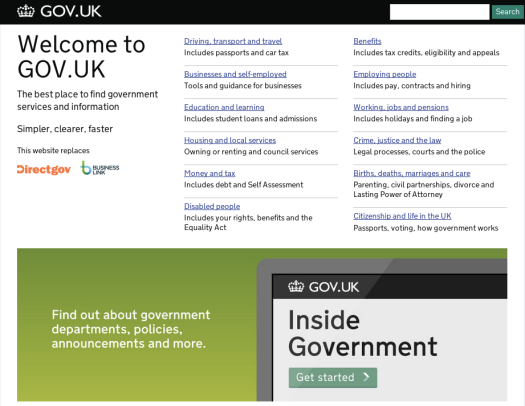 When I started my research, the 2010 Government ICT Strategy was the most up to date piece of strategic information I could find. So, when the Government digital strategy was published, followed by the publication of the departmental digital strategies, I had to rewrite my 7,500 word draft dissertation.
When I first started writing, transactional data was also rather limited. I had to use a BBC News article and the results of a SOCITM study for the Cabinet Office published in 2012. Since then the release of the Magna Charta, the Transactions Explorer, and the Digital Efficiency Report have all shed new light on this area, although unfortunately not quite in time for my dissertation deadline.
It's odd to think that the dissertation I finished writing only a few weeks ago is probably on it's deathbed already – I suspect that within a year it will be largely out of date. Still it was a incredibly interesting project.
However every cloud has a silver lining. So, whilst I've been constantly rewriting entire paragraphs and pages, I've learnt a lot about the direction of digital government.
On reflection, you could say that in true GDS style, my work is iterative. In the last few weeks alone more progress has been made inside and outside GDS. Had I been starting my dissertation today I would have written about these changes but I'll leave that for others to do.
I'm happy I covered the landscape as it was. And I'm pleased it's continuing to evolve.