From October the 17th GOV.UK will replace Directgov and Business Link as the best place to find government services and information, but what will that actually mean for people following links for these sites, or visiting bookmarked pages?
URLs - links and Web addresses - are the 'strands' in the Web metaphor. When URLs change, the strands break.
The advantages, and implications of preserving links has been nicely explained by the inventor of the Web, Sir Tim Berners-Lee in his essay "cool URLs don't change". But preserving URLs isn't just about being a good citizen of The Web, it's about putting users first.
Links in the wild
Directgov URLs abound on posters in Job Centres, official government stationery, mugs and even calculators handed out over the years. The same is true for Business Link, which has been amassing inbound links to its collection of Web sites since 2004.
All of these are likely to be found out in the wild for some time to come. For example, there's a Directgov URL direct.gov.uk/workplacepensions in the current Workplace Pensions campaign:
https://www.youtube.com/watch?v=9gcd8lj4v3M
Somewhat ironically, that video has been deleted from YouTube!
When GOV.UK is released we don't want people to visit these and find broken or abandoned websites. We also want to make sure that departments don't have to throw away their old stationery or get every leaflet reprinted simply because the link has changed.
So, from October the 17th people following links or bookmarks to Directgov and Business Link will be automatically redirected to an appropriate page on GOV.UK.
It must be GOV
GOV.UK has been live (as a beta) for 10 months, so the launch on the 17th isn't so much about releasing new software; it's about removing the beta warnings and decommissioning a number of existing Web sites.
Many organisations decide that redirecting sites is an onerous task, so they either redirect the all the old links to the front page of the new site, or simply switch the site off in its entirety. We're not doing that. Instead we've created individual redirections for each and every page on Directgov and Business Link to an equivalent page on GOV.UK.
This means that someone looking for the Directgov Bank Holidays page will be taken straight to the new GOV.UK Bank Holidays page
To ensure we redirect as many URLs as possible, we've collected log files from the many machines which run Directgov and Business Link.
The logs themselves are reasonably large; a single day from one Directgov server contains in the order of 25 million lines, containing 9 million distinct URLs. These URLs have proven to be useful test data which we replay against our redirection service to test our redirection as a part of our continuous integration environment.
Map all the things
What we then do is map those URLs: create a table that matches an old URL with a new URL, and assigns an HTTP status code to each so we know how to treat each one.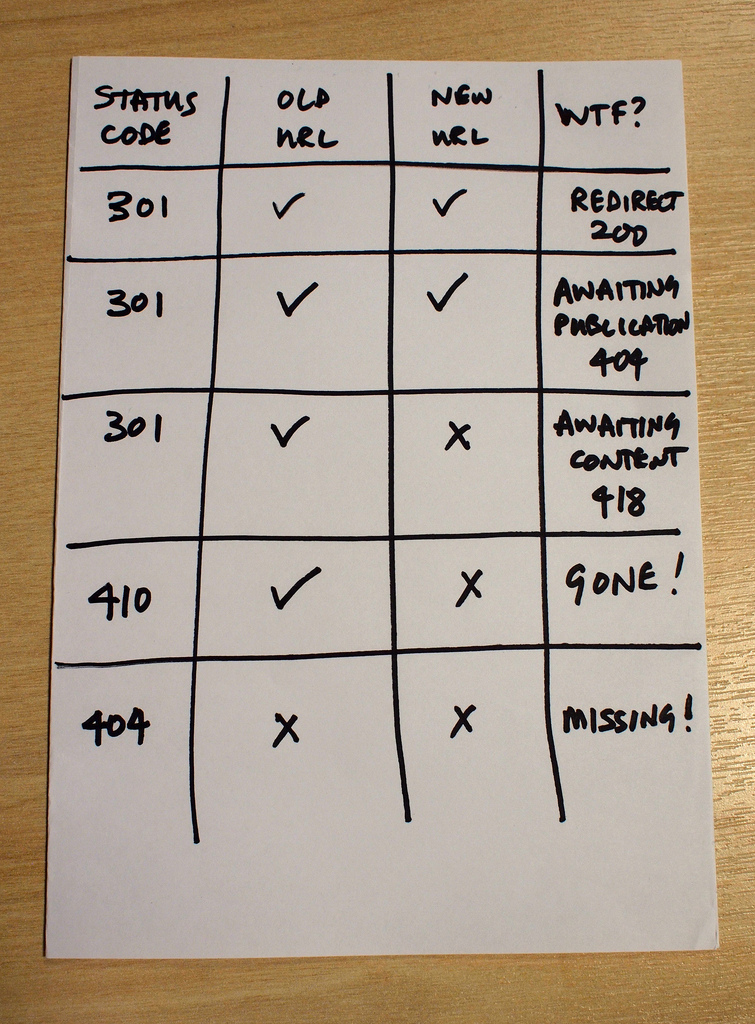 Assembling the mappings and ensuring they redirect people to the correct place has been an enormous undertaking, involving hundreds of people across dozens of organisations. For each redirection we have to collectively decide on which user-need is being met by the old page, and how best to satisfy the need on GOV.UK.
Some pages are straightforward to map, but in some cases a mapping may not be obvious. This is particularly true for pages which cover multiple topics, or serve to help people navigate several pieces of content. People might have bookmarked these pages for any number of reasons, so we've reached a decision based in part on data from use of the sites, and in part based on the judgement of the team at GDS and beyond.
Departments were given tools to review the mappings side-by-side onscreen, so we could get feedback straight away if the mapping appeared incorrect.
Not every road leads to GOV.UK
As Etienne mentioned earlier this week, there are some pages for which no user need has been identified on GOV.UK.
In those cases we're going to show users a notice that tells them what has happened to the page, and offers them a link to a copy of that page on the National Archives website. In some cases we might also show users a suggested link to the canonical source - another website that meets the user need represented by the old page.
We're confident all this effort and the hard work and collective attention to detail made by so many people will prove to have been worthwhile. Come October the 17th, rather than waking up to a broken Web, you'll find it just that little bit better.