As we build up to the release of GOV.UK next week, it seems like a good moment to reflect on the big idea behind GOV.UK.
As ever, it all starts with users.
Finding out what users need
Back when we first started to explore how a single website for government might take shape, we analysed every single piece of information published on Directgov and, later on, Business Link. We used the pages themselves as well as the search terms used to find and define what questions and demands those sites were trying to meet.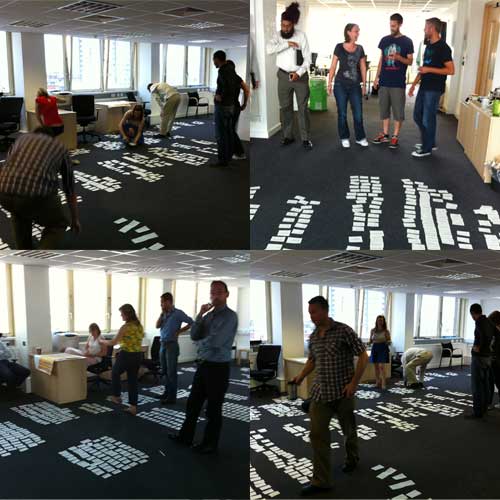 We then had to work out which of these we should actually be answering - the genuine "user needs" rather than the information that people don't actually want or need from the government. We worked very closely with our colleagues in other government departments and devolved administrations to work out which user needs that GOV.UK should satisfy.
"How do I renew my passport application?", "When's the next bank holiday?", "How do I apply for lasting power of attorney?" - these are the questions and demands that people have of government. Users need access to public services, information about their rights and obligations, and information about aspects of life in the UK for which the government is the canonical source of information.
We took the approach that government should do what only government can do - focus on the "irreducible core" and focus on what users need us to publish.
How do you meet a user's need?
As we started the work of replacing Business Link and Directgov we were pretty ruthless about meeting users needs. The criteria for determining whether to declare something as a user need were formally adopted by departmental digital leaders earlier this year.
Those criteria say "It's in if..."
It's something that only the government does
There is clear demand for it from users (ie. through search and traffic logs) or the government is legally obliged to provide it
It's something that people can do or it's something people need to know before they can do something that's regulated by / related to the government
It's something the government provides, does or pays for
It's inherent to a person's or an organisation's rights and obligations
It's straightforward advice that helps people to comply with their statutory obligations (eg. what records you should keep for your HMRC tax return) or provides certain kinds of advice and support to businesses, but excludes general life or business advice that is provided by third parties
Focus on the common case (but don't forget about the "edge cases")
Because we were starting with these new user needs we couldn't just replicate the content from Business Link and Directgov; we had to create new pages and tools that met the needs we had identified.
In building these, we're making sure that we optimise for the most common cases. We'll include detailed information whenever appropriate, but not at the expense of a simpler, clearer and faster experience for the majority of our users.
For example, we know from search data that most people looking up bank holiday dates are looking for the next bank holiday, so we display that information really clearly. Then underneath, for people who need it, we've included information the rest of the bank holiday dates for this year and the next.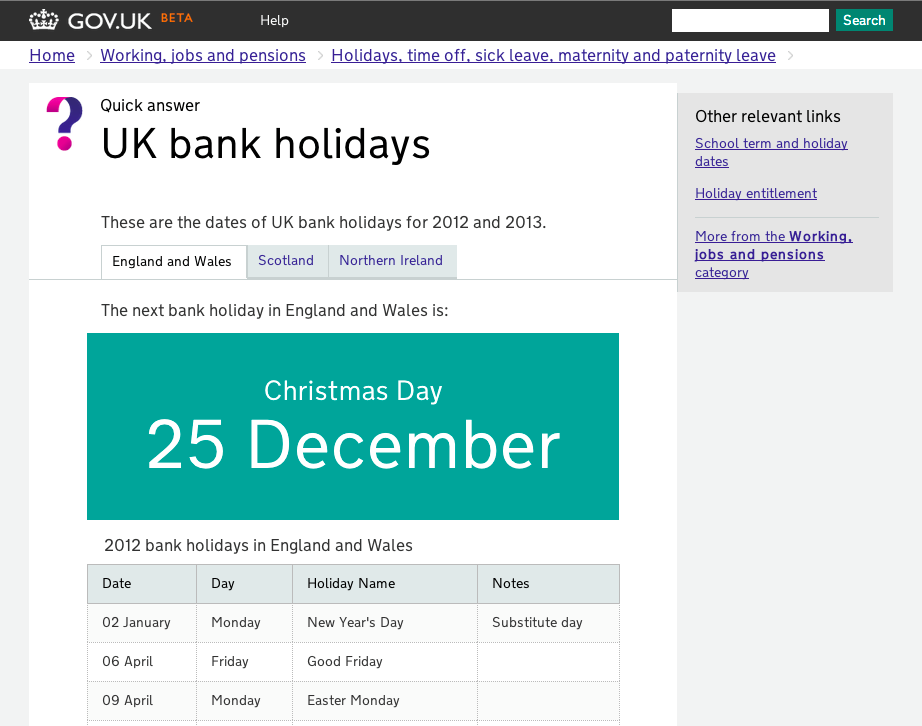 It's an example we've used a few times, but it's a good one - thousands of people look for this information every single day. Later this week I'll tell you a bit more about how we're addressing the needs of businesses in particular.
What next for user needs?
By the time we go live we'll be meeting around 2,000 identified user needs. They're all different, all of them catering directly to the demands we know that people and businesses have of government services online.
But we know more will emerge over time. We're constantly monitoring and testing how people respond to GOV.UK, and feeding that data back into the website to make it better. We'll also continue to work closely with departments as their digital teams analyse and articulate new user needs and act as a vital "expert link" between GDS and their department in the months and years ahead.