In the spirit of iteration and continuous delivery today we are releasing a number of new tools and content items, and as usual we'd like your feedback. Neil Williams, Product Manager at GDS explains the latest release on GOV.UK.
Today sees another release for GOV.UK, delivering a new specialist guidance format, an improved Trade Tariff tool and a consignment of content items to meet the needs of people thinking about or already involved in importing or exporting goods and services.
Why today's release is significant
This is the first time we have begun binding together different layers of related content on GOV.UK in order to test out user journeys between the introductory content aimed at everyone (for example this introduction to importing) and more specific, technical material for those who need to get down into the detail (for example this guide to exporting certain controlled goods).
It's also the first outing for the specialist guidance format where this detailed material can be found. Specialist guidance was absent from our earlier beta releases and it is a key component of the overall GOV.UK product. More about this new format below.
Thirdly, we're introducing the first public iteration of an improved tool, the UK Trade Tariff, which aims to take away some of the complexity for people needing to look up EU commodity codes and other customs information when importing or exporting goods. We'll be explaining more about this tool in a separate post later this week.
What we mean by specialist guidance
We're defining this format as the detailed guidance which government has a duty to provide. It's the 'long tail' of government content meeting highly specialised user needs - for example, the needs people have when classifying aircraft parts or exporting electromagnetic devices.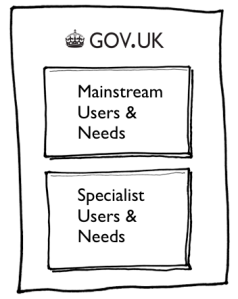 As we start to move departmental websites across to GOV.UK you'll see lots more of this kind of content, such as statutory guidance about education and children's services from DFE, and guidance for people working within the justice system from MOJ.
The word 'specialist' is intended to refer to the material, not necessarily the users, although in this part of GOV.UK we assume the user may have some prior knowledge or expertise, or at least a willingness to grapple with unfamiliar words and concepts.
The source material tends to be long form text content, and so we've focused our design approach on providing a good reading experience on devices of any size.
We've also tried to make it clearly distinct from other GOV.UK formats. Through the use of a traditionally corporate colour, the 'specialist guidance' label and prominently placed logos from government organisations responsible for producing the guidance, we hope that it will be immediately clear to users what kind of content this is and if it's useful to them, irrespective of whether they land on it from Google or another part of GOV.UK. We also provide clear links to related introductory content for people who want something a bit less detailed.
Feedback and user testing
As ever, this release is a beta. We know there are gaps, which we will address by adding to and improving the content and product features in the coming weeks.
We're releasing this now because we want to learn how people move between different formats and how they use the Trade Tariff tool. We'll be doing several rounds of structured user testing using qualitative and quantitative methods to help us make these new features and content items better.
We'd also love your feedback to help us work out out what needs to be improved. Tell us what you think in the comments or by sending us an email.