Hello, I'm James Weiner, and I'm a front-end developer at GDS. Last night we released the latest update to GOV.UK, and among the new tools and services we've released is the Licence Finder. I wanted to explain a bit more about how it came into being.

What does it do?
The Licence Finder solves one of our more straightforward user needs; "What licence(s) do I need to do this thing in this place?", for instance, opening a bakery somewhere in England.
But behind that relatively simple question lies a huge tangle of departments, local authorities, legislation and, of course, licences.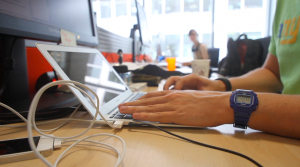 The Licence Finder begins by asking users to search for the activity or business they're interested in, whether that's a general field or a very specific activity. You can look for businesses, like 'hairdressing' or 'photography', or something members of the public might want to find out about, like 'fishing' or 'events'.
After that it asks a few more questions about what exactly you'll be doing, before asking for your location so we can point you at the right authorities. Finally, it will present you with a list of relevant licences, some of which you can find out about in detail on GOV.UK now.
We'll be updating our information about licences throughout the summer, and later this year we'll be integrating those with tools that will help you apply for them without having to leave GOV.UK.

'Design' doesn't exist in a vacuum
Given the sheer number of licences users might be searching for (several hundred, some of them extremely specific) the Licence Finder had some fairly complex demands of the development team at GDS. We've had to make sure the database is structured sensibly, and ensure that it's robust enough for us to build on it in the future.
To make sure we've got all the information we need to make those improvements we've made sure we can comprehensively track how the Licence Finder is performing. That will help us to see how people are using it and where we can improve on the information we're showing to users.
It's not finished! (Nothing ever is)
We're really happy with the new tool. It's clear already that we could make improvements to it, but first we'll need data from how people are using it to make sensible tweaks to the design and user-flow.
As ever, we really welcome your feedback. Please try out the Licence Finder and let us know what you think.