Last week Jordan Hatch, Developer with Government Digital Service met Francis Maude, Minister for Cabinet Office for a quick chat.
Last week, I met with Francis Maude, Minister for the Cabinet Office to show him one of the exciting projects that we've been working on here at Government Digital Service.
The Innovation team have been hard at work building a new prototype website which displays public appointments (current vacancies on the boards of UK public bodies and a range of UK government committees). Building on existing
Cabinet Office Public Appointments website
, the prototype makes it easier and simpler to browse through available public appointments. It also provides search filters, email notifications and links across to Twitter as well.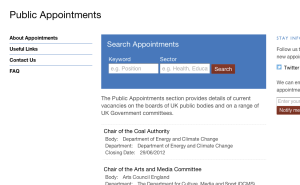 The minister was impressed with the website and we hope to be releasing the first iteration of the site out in alpha in the near future.