One of the problems that Alphagov is trying to solve is the confusion generated by the fragmented nature of the government's digital offering. Who's in charge of what? Those who work in or around government too often work on the assumption that everyone knows who is responsible for what, but in reality, it's quite a confusing picture. At a service level, DirectGov attempted to solve it, but (from where I sat), I'm not quite sure it ever worked.
So if it's confusing for UK citizens, how much worse is it for those overseas who have occasion to interact with the UK government? They might be ex-pats, British travellers and tourists or they might be citizens of another country looking to visit, trade with or simply understand the UK. And Alphagov needs to work for them too.
The issues of branding and devolved editing comes into play here (those links are to my interpretations of these issues, not formal Alphagov suggestions) – and suggest some basic rules:
-    That people overseas are even less bothered about which department they are dealing with than those inside the UK – they just want to deal with the UK government
-   That the glue that holds together the content emanating from a devolved editing system is tagging.
-   That the IP location tool that Alphagov has been using will be rather useful
So what that means is that a user heading to gov.uk in, say, India, will be sent to the India version of that page – gov.uk/India, automatically. IP recognition isn't as exact a science as we would all like, but users would be given the option to change their location or to go to the UK version.
On that page, there would be a number of static links, largely decided by the data – what the user traffic tells us we need to show. These could be passports, visas, travel advice, contact information – by definition, nothing surprising.
The 'fluid' content would be created by editorial staff across government where their department has an interest in India – that could be the FCO, UKTI, DfID – or any government department or agency which works in or with that country. If they produce relevant content, it is tagged to both the department that produced the work and the country itself, so in this example it would be tagged to India. The discipline of tagging is important – from what defines 'relevant' content to a shared dictionary of how we refer to a country and whether we recognise a country or not.
So the gov.uk/india page becomes, in part, an aggregation of the content using that country name as a tag. It's a semi-automated process – it's a page which could be created on the fly but where the editorial control comes in is in the prioritisation of the stories. I'd suggest that, in practical terms, we would need to suggest a lead department for each country, and that lead would depend on policy priorities – are they diplomatic, trade-related, development-led? Some horse-trading would be likely (but there's lots of areas of a single domain where that's true). That editorial lead would decide what stories are highlighted on a front page or a carousel for that country, but all stories would share the same 'home', as decided by the tags. The departments creating each piece of content would be responsible, as now, for the distribution of that content and making sure it is seen by the right audience. That distribution is the key to the usefulness of the content – getting hung up about the role of the India page wouldn't be the best use of our time – and, say, a news item or video is still more likely to be found through search, recommendation and social media. Departmental teams will remain responsible for the language used (and its search friendliness) and the distribution mechanics.
There's more joined-up working envisaged in this model and, early on, the duplication of content and battles over fiefdoms will be apparent – but in the long run, having such problems surfaced will be healthier as overseas-facing departments become clearer as to who delivers what in terms of our delivery and reputation overseas.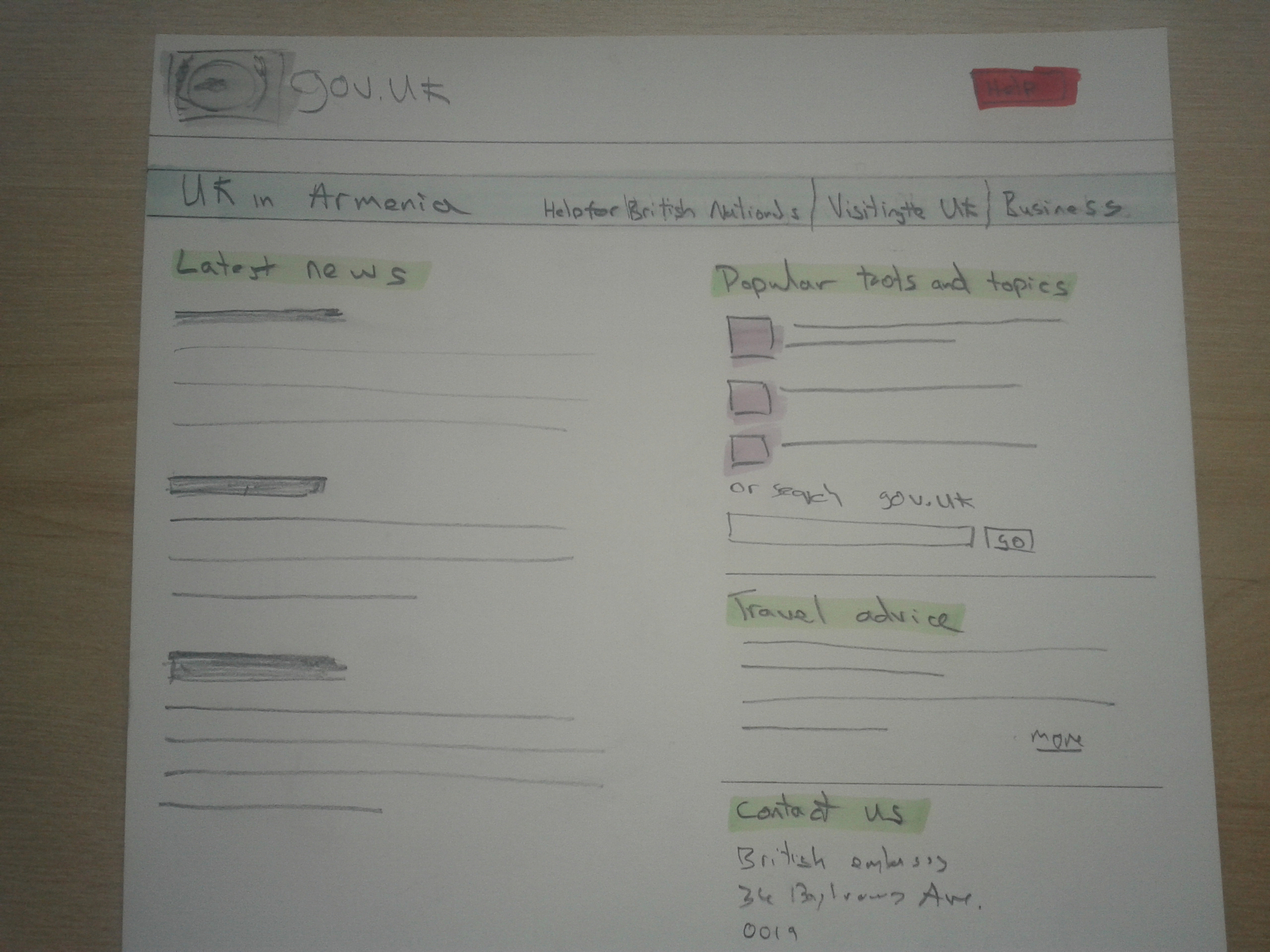 Richard's sketches illustrate something of how this could look, but it is to be hoped that as Alphagov becomes Betagov, this will be worked through and a more coherent view will become clear as the vague outline above becomes real and any genuine problems and clashes confronted. We need to have the conversations early though – this is my take, so we'd welcome the thoughts of others, inside and outside of government.