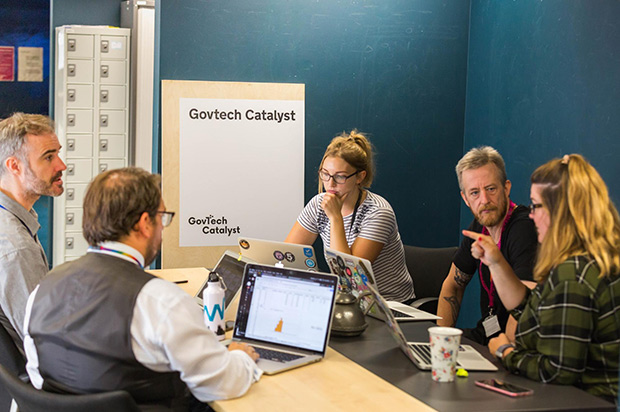 We are reflecting on the impact of our experimental first phase of the GovTech Catalyst. We found promising solutions to some of the hardest public sector challenges. The Catalyst has connected private sector innovators with the public sector, using Innovate UK's Small Business Research Initiative (SBRI). After a successful first phase, we have started releasing £1 million of funds to each of the public sector teams starting Phase 2.
Promising prototypes that help solve public sector challenges
We designed the first phase to help the public sector discover emerging technologies. We wanted to help them learn whether private sector technology would help solve their challenges. Phase 1 exceeded our expectations. 100% of the 75 supplier teams developed prototypes in just three months. By comparison, the 2019 UK average for startups in accelerators was 91%. We hadn't expected this level of success doing it for the first time.
We saw the rapid development of prototypes. Some were promising. Testing showed the teams have a high chance of solving real public sector challenges. These include improving social care, reducing loneliness, improving recycling, protecting firefighters, and detecting illegal substances in parcels.
As a result, we have started releasing £1 million of funds to each of the public sector teams starting Phase 2.
Helping smaller businesses grow the GovTech sector
We wanted to show the value of the public sector working with small and medium-sized enterprises (SMEs). The government wants to increase the proportion of spending with SMEs. This will help to boost the economy and create more jobs. We hope the public sector will be able to learn from our approach using the SBRI. We were happy hearing from one of our suppliers:
"GovTech Catalyst has been defining for us an organisation. It was our first ever client project. We have since attracted a few large contracts creating around 10-20 full time jobs."
The SBRI was designed to give smaller businesses their first case studies that show their value to other potential customers. That feedback from one of our suppliers shows how the Catalyst has used SBRI to grow the GovTech market.
During Phase 1, we awarded more than 90% of our funding to SMEs. Central government awarded 26% of its contracts to SMEs between 2018 and 2019. Many of our suppliers have never worked with the public sector before. 60% of them are based outside London and the South East. As a result, Phase 1 created new opportunities for businesses across the whole of the UK.
Helping to deliver the Government Technology Innovation Strategy
The Catalyst is helping to deliver the 2019 Government Technology Innovation Strategy. We're doing this by nurturing the conditions for innovation.
Our public sector teams are learning how to use data more effectively. At the London Borough of Waltham Forest, they are collaborating with teams across the public and private sectors. They are using their research to improve geospatial data standards. This will help make planning more data-driven. Increased data capability is helping teams address challenges now. It will help them solve future problems too.
Teams are also becoming more experienced at collaborating with smaller technology suppliers to address public sector challenges. There has been a marked change going from buying solutions to buying outcomes for users. Teams are already seeing the value. The Catalyst has embedded the SBRI's challenge-based approach in organisations across the public sector. This will help to cultivate technology innovation in the future.
We're supporting a growing community of interest around public sector technology innovation. In another post, we shared our learnings from the first phase of the Catalyst. Sharing our successes and failures helps to evolve our community.
Please share your reflections on the GovTech sector by commenting below. This will help us improve as a community.
Subscribe to the GDS Blog to stay updated on public sector technology innovation, as well as posts from across GDS.