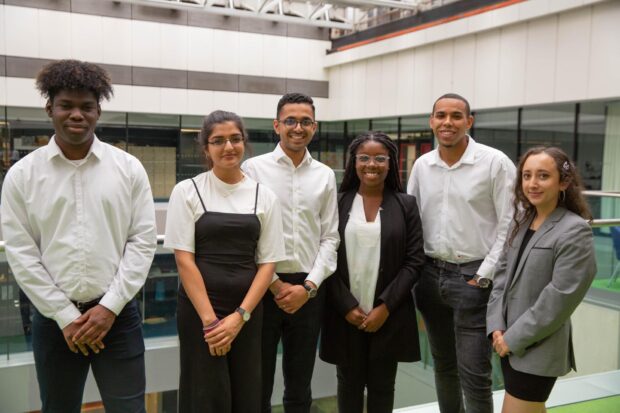 Over the summer, GDS welcomed 6 interns from the Summer Diversity Internship Programme (SDIP). 
They've been busy working in various teams to support GDS's work and learn more about working in the Civil Service. 
They're all undergraduates or recent graduates, from diverse backgrounds, with a varied set of interests and career goals. Here's what they've been up to as part of their internship. 
Matthew - SDIP intern, Strategy
I have been fortunate to have worked within the strategy team as part of my internship. I have spent the majority of my time here researching and drafting a policy positioning paper. I have also written a synopsis of GDS's spending review engagement, and taken minutes at meetings with senior civil servants. 
I have enjoyed the fantastic working environment at GDS, and everyone within the strategy team has been helpful and welcoming. Colleagues at GDS have been generous, taking time out to share their experiences and offer fantastic career advice. 
The SDIP internship has been a brilliant opportunity, which I am grateful to have been a part of. There were opportunities to participate in a variety of central events and Fast Stream coaching programmes, and I was assigned a mentor who has supported me throughout. This experience has been pivotal in my decision to apply for the Fast Stream next year. 
Nicole - SDIP intern, Engagement and marketing
I recently started as an Engagement and Marketing Assistant for the Digital, Data and Technology (DDaT) Profession. I've been helping to promote GDS Academy masterclasses and the DDaT Fast Stream.
My work involves shadowing my manager in important meetings, creating engagement strategies for campaigns, managing social media projects, and learning about exciting upcoming technologies. In my first couple of weeks, I kept busy by organising an intern's Instagram campaign for GDS!
The friendly team at GDS made me feel welcome from the start. Colleagues treat me as an equal and are eager to share their passion and knowledge, and offer guidance wherever I need it. 
So far, the internship has proven that no matter what our backgrounds are, we can all excel in the Civil Service. I'm excited to see what more I can achieve in this field. 
Working in the Civil Service in the run-up to EU Exit is also a privilege and an incredibly useful experience. I now have the confidence to adapt to a fast-paced environment and keep up to date with technological and political developments. My daily life and work has a unique tone, which no other internship could give me, and I truly feel that my work here benefits the public.
Georgina - SDIP intern, DDaT capability
The past 6 weeks have opened my mind to the possibility of a career in DDaT. I have been working as part of the DDaT Capability team, which supports government departments to implement the DDaT Profession Capability Framework in their own business units. This framework outlines typical skills required for digital, data and technology job roles to create consistency across government. 
I took every learning opportunity I could while at GDS, shadowing colleagues both within the department and externally, which is something the programme encourages. A particular highlight for me was spending a day at the Department for International Trade, shadowing a DDaT Fast Streamer. 
I think it's really important that the Civil Service reflects the society it serves and I shared my interest in diversity and inclusion at GDS with my line manager. As a result, I was given the responsibility of contributing to the development of a diversity and inclusion strategy for the DDaT Profession, which will inform work done in the future. It was really rewarding to oversee a long-term project from the initial research stages to the finished product. This allowed me to strengthen my skills and develop new ones. I have also been introduced to new areas of interest, such as user research.
Before my internship I would never have considered a DDaT role but that is no longer the case, which is only a testament to my experience here at GDS. 
Jeeves - SDIP intern, Common platforms
I applied for the SDIP this year because I wanted an in-depth experience of government. After finding out I was successful and had been placed in GDS, I was excited and shocked. The information overload seemed insurmountable at first, but the combination of a supportive team, and diving head-first into my work meant those challenges swiftly dissipated. I discovered that GDS is all about people, not just technology.
GDS is fantastic at what it does – whether it's modelling agile working, building products or upskilling civil servants through the GDS Academy. 
I've had a number of valuable opportunities while working on the Engagement team. From presenting at Civil Service Live, to leading a stakeholder mapping workshop, and even writing part of a submission to our Permanent Secretary, John Manzoni. I was also able to spend time on the GOV.UK team to work on EU Exit preparedness. 
Above all, I have experienced the freedom and trust that GDS places in its staff to get high-quality work done, by balancing independent responsibility with collaborative working. Following this experience, I hope to gain a place on the Fast Stream in the future!
Christian - SDIP intern, User-centred design
My internship at GDS has been somewhat of a learning curve. I was assigned to the User-Centered Design (UCD) team, which exists to support designers and their teams to build government services. To achieve this, the UCD team runs a variety of courses for public sector bodies on service design, accessibility training and GOV.UK prototype kit training, providing a structure for designers and user researchers to collaborate and share best practices. 
During my internship, I collated feedback from these courses into a report that displayed common pain points and provided short and long-term recommendations for the future. I presented my research to the team. I also helped organise the team charter into a fluent and coherent text. 
During my internship, I have really learnt  the importance of putting users' needs at the heart of any project. If I could describe my experience at GDS with a phrase, it would be 'fun, professional growth'. 
I am also mindful that this opportunity was possible because the government saw a need to have a Civil Service that properly represented the demographic of the UK and I am grateful for this effort.
Tina - SDIP intern, GovTech Catalyst
I applied for the SDIP internship in my final year at UCL after it was recommended to me by some course mates. I joined the GovTech Catalyst team, which is responsible for allocating funding and helping to develop emerging tech. It focuses on providing innovative technology to address various challenges across the public sector, for example, finding technology that can identify still imagery from Daesh, as part of counter-terrorism measures. 
What's stood out for me the most during my internship is the breadth of experience I was offered. Not only did I get to shadow important team meetings and make significant contributions to my team, but I also got to participate in a crisis management workshop at the Ministry of Defence and attend a networking event at Number 10. In light of EU Exit, it is an incredibly exciting and dynamic time to work in government and I would highly recommend it to anyone considering a career in public service.
Thanks GDS!
While the different schemes have offered different opportunities, we've all benefited from each other's experience and skills. GDS staff have been extremely welcoming and have shown such kindness in helping us progress in our careers, from proofreading job applications to having informal chats about their experiences. We're all so grateful for this experience of working in government, and can't thank GDS enough for having us. 
Find out more about the SDIP programme.

Applications for the DDaT Fast Stream open on 26 September 2019. Find out more about the DDaT Fast Stream programme.