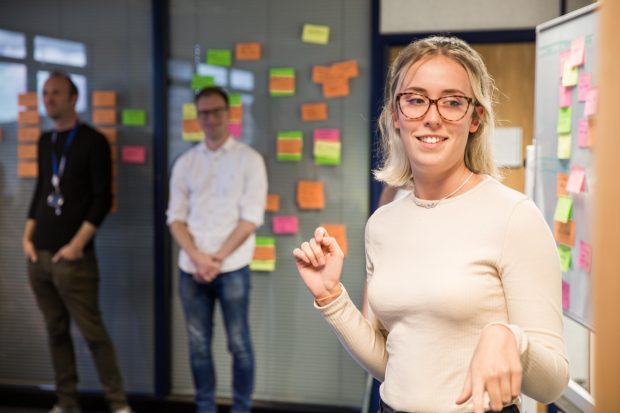 The GDS Academy, DWP and HMRC recently ran an internship programme with 3 universities.
Students from University of Leeds, University of Manchester and Manchester Metropolitan University attended an 8-week course designed to develop digital skills and showcase the Civil Service as a career option.
We joined up with other government departments to deliver this programme in order to build Digital, Data and Technology capability across the Civil Service. This is one of the main priorities of the Government Transformation Strategy published earlier this year.
The programme
The internship  programme, developed by the GDS Academy, included training and a 4-week placement on a digital service in a government department. It also included a 2-week team project in which interns developed an online tool prototype for a specific public service.
The internship programme developed from a pilot trialled in 2016. It allowed us to build a comprehensive scheme that can be extended to several universities and government departments.
Government as a career option
"Working in government completely surpassed my expectations. Everyone seemed passionate about what they do, dynamic and fun", said Isabelle from University of Manchester.
Ola, a student at University of Leeds, added:
I had no idea what it was like to work in the Civil Service and this felt like a great way to enrich my understanding. I worked directly with two outstanding user researchers at the DWP digital hub. I was under the impression government would have a traditional way of working in a slow-paced environment. My preconceptions were thrown out the window.
Immersion into digital government
"I worked at the DWP digital hub in Leeds and was involved in the service designed to make the transition to Universal Credit as smooth as possible for jobcentres" explains Seb, a student at University of Leeds. "I study History and Spanish but applied for the internship to learn more about technology and digital. It's been a great experience. The best lesson has been the importance of simplicity when designing government services."
"In the space of 8 weeks I've attended the Academy's Digital & Agile Foundation Course, worked with HMRC and GDS on digital projects in a collaborative Civil Service environment", said Martin, a student at University of Leeds.
"I had the unique opportunity to gain an insight into the development of digital projects in the Civil Service. The new skills and knowledge I've acquired and put in practice on a live HMRC project will be useful for a future career in digital. The GDS Academy internship has been a fantastic journey."
Showcasing their success
To show the government's support for the interns and give them the opportunity to showcase what they have achieved in a short period of time, the GDS Academy set up two presentation sessions in Leeds and Stockport, where the students presented their project to a university and government audience.
Kevin Cunnington, Director General of GDS and Head of the Digital, Data and Technology Profession, attended the presentation in Leeds. He said:
This is a great example of how we are collaborating to build the digitally skilled Civil Service of tomorrow and deliver the Civil Service vision. Our capability programme is going full steam ahead and what we do today will make a significant difference tomorrow.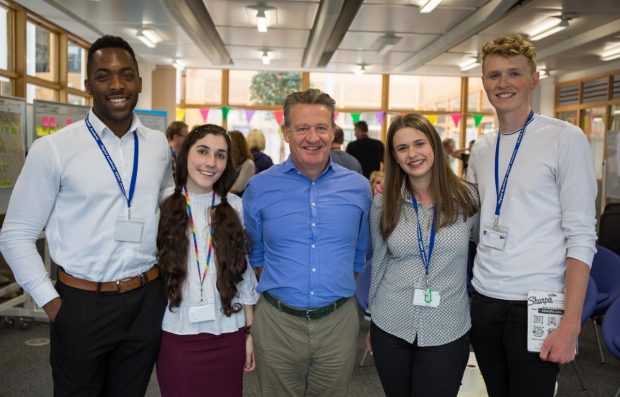 Building a brilliant Civil Service for Digital, Data and Technology
Paula Newman, Senior Project Manager at HMRC Digital recalled:
Having the interns work on real-life projects gave them responsibility and ownership. They rose to the challenge and gave us a refreshing insight into how HMRC could benefit from their talents in our increasingly digital world. They were brilliant.
Sally Hudson, Product Owner, Prepare for Universal Credit service at DWP:
We all benefited from the internship programme. Our interns worked on current digital services, learning new techniques, such as prototyping, user research and data analysis. They made an immediate difference with the outputs of their work.
Judith Kendall, Demand Manager at the GDS Academy:
There's an awful lot of work going on behind the scenes to run this programme. However, the students have amazed us. It makes all the hard work worthwhile, a truly valuable investment into building our brilliant, digitally-skilled Civil Service.
What the universities said
Sarah Goldstone, Work Placement Project Officer, University of Leeds:
The flexibility, trust and sharing of expertise allowed parties to explore ideas and evolve the project to bring mutual benefit. We supported each other, learnt about respective procedures and shared a desire to create a positive student experience.
Graham Jackson, Employability Executive, University of Manchester:
Our first cohort of our students worked on a real, live project at HRMC. It was a privilege to see how much they gained during their placement. The enthusiasm from each student really shone through and their feedback has been really positive about the scheme, working in digital government and the Civil Service.
Iona Foden-Norris, Talent Match Manager, Manchester Metropolitan University:
When I spoke to our student, she talked about how much value she had gained from the programme. It really sounds like this internship will help her to get a sandwich year placement as she now has lots of examples to draw upon that will give her an edge on other applicants.
The GDS Academy is planning to extend the project to further departments across the country, and hoping that more universities can get involved as well. Please email us if you'd be interested in taking part.
To find out more or book a course, visit our new website. You can also follow us on Twitter.