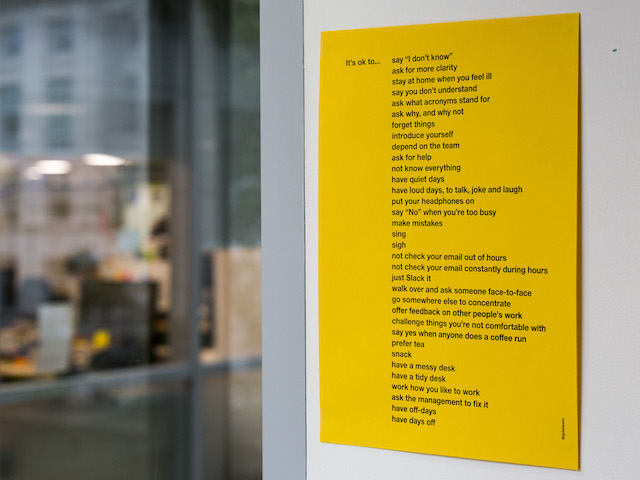 We're hiring quite a lot of new people at GDS, and that's brilliant because there are so many new brains and new skills and new faces to get to know.
It's also difficult. It's difficult for those newcomers to know what to expect, and what's expected of them.
Of course they get told all the official stuff - how they get paid, how to use the printer, who their line manager is.
But it's harder to communicate the unofficial stuff. The stuff that's good to know, but that it's no-one's job to tell you. The stuff you'll probably find out during your first few months, but most likely by accident, because someone casually mentions something in passing and you say "Wait, what? Is that a thing?"
Stuff that's good to know on day 1
The team I work with has been hiring too. We welcomed one newcomer two weeks ago, and two more just this week.
And it occurred to me: maybe it would be helpful to spell out this unofficial stuff up front, on day 1. Maybe we just need to say what's ok. To be explicit about the things that those of us who have been here a few years take for granted.
So our team wrote a list of things it's ok to do at GDS.
It's ok to:
say "I don't know"
ask for more clarity
stay at home when you feel ill
say you don't understand
ask what acronyms stand for
ask why, and why not
forget things
introduce yourself
depend on the team
ask for help
not know everything
have quiet days
have loud days, to talk, joke and laugh
put your headphones on
say "No" when you're too busy
make mistakes
sing
sigh
not check your email out of hours
not check your email constantly during hours
just Slack it
walk over and ask someone face-to-face
go somewhere else to concentrate
offer feedback on other people's work
challenge things you're not comfortable with
say yes when anyone does a coffee run
prefer tea
snack
have a messy desk
have a tidy desk
work how you like to work
ask the management to fix it
have off-days
have days off
Having written the list and shared it with a few other people, we turned it into a poster and stuck a few copies on the walls. We took pictures and posted them on Twitter and Instagram. It seemed to go down quite well.
Growing a team is hard
I'm no expert, but I think that maintaining a good organisational culture is hard work, especially when your organisation is growing. None of your newly arrived colleagues can be expected to know all that cultural knowledge, and few of the old hands have time to sit down with them and explain it all.
So too often, newcomers are left to stumble on it by themselves. Eventually, they figure out the unwritten rules on their own, but that might take months, even years.
This poster isn't exhaustive. It doesn't say everything that needs to be said. It's not an induction either, but perhaps it might become part of one. (We're working on a new induction process, something we've needed to do for ages. More on that another time.)
But: it's a start, and we hope it gives newcomers at GDS a hint about how we work, and how they'll be working too. Some of those old hands I mentioned have said they found it useful too.
It's ok to print your own copy
Quite a lot of people asked if they could get a copy to put up in their office too. Great idea. If you'd like one, you can download a print-your-own version.
Did I mention that we're hiring? Oh yes, I did. Righto then.
Follow Giles on Twitter, and don't forget to sign up for email alerts.