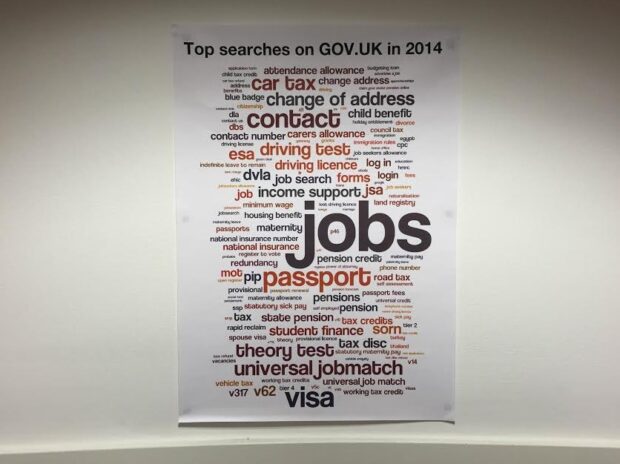 This is something one of the GOV.UK team printed out, a simple word cloud that shows popular search terms on GOV.UK.
What's the thing people search for most? "Jobs."
Front and centre, far bigger than everything else on that page. Evidence of people all over the country looking for all manner of Government information about jobs. More than 70,000 searches are made on GOV.UK a month using terms related to jobs and careers. www.gov.uk/jobsearch is the most visited page on GOV.UK, with approximately 5m visits per month – nearly 9% of visits to GOV.UK involve looking at the above page. Real people looking at job policy, new job applications, looking for ways to develop their career – or start one.
If our work is truly user-led then getting this right is one of the most important things we will do. Getting digital into the heart of DWP, the government department responsible for benefits including Jobseeker's Allowance and Universal Jobmatch, is critical to that. We need expertise and ambition to make a difference to millions of people.
For years, our services in this area have been reliant on aging technology which has, in recent times, restricted our agility and locked in many working practices. As I've said before, everyone (not just users, also colleagues in public services) suffers from poor technology.
We now have the opportunity to re-think many of our assumptions about jobs related information and services, and apply digital era thinking to what has been an industrial era. We need the Internet's brightest and best technologists to transform this part of our estate, and to radically improve the lives of many in society in most need of help and assistance from the state.
This is a new mission for an old problem. Mayank Prakash, the new Director General of Technology at DWP, has made a great start. He's just published a blog post seeking candidates for a new Chief Technology Architect at DWP, the first of many appointments for the team. Details for the role are here.
This is stuff that matters. I'm not joking when I say this really is a once-in-a-generation opportunity. Mayank and I will help bring in those with the skills and attitude we need to DWP. GDS is fully engaged in supporting this approach.
This is a chance to make transformational changes to how we meet the needs of millions of people.