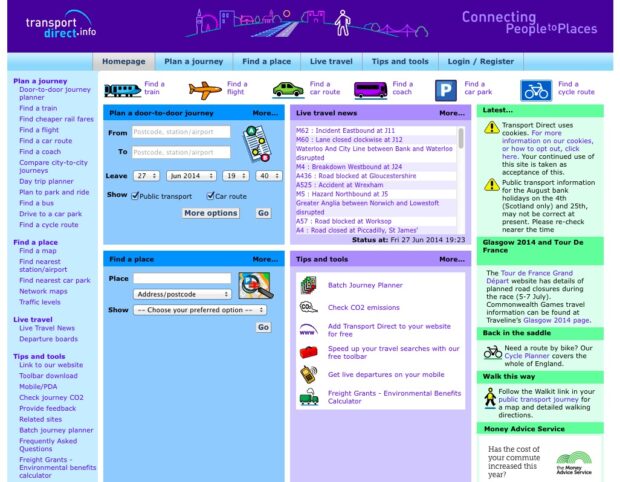 Hands up if you remember Transport Direct - www.transportdirect.info. It was a journey planner for British transport - all of it, everywhere. Roads and traffic, rail journeys, cycle routes, foot and vehicle ferries, you name it. It included and integrated a huge volume of data from hundreds of sources, put it all together in one place, and made it searchable.
It was funded by the Department of Transport, the Scottish Government and what was then the Welsh Assembly, now the Welsh Government. There's a detailed account of its history and context on Wikipedia. It closed for good this week (last Tuesday, 30 September), after a Department for Transport review concluded that there are plenty of equivalent services provided by the private sector.
The reason I'm flagging up its closure here is because it's a good example of what happens when you make data open.
Regular readers will know that we're big fans of open data here at GDS. In fact, we're fans of open everything. One of our design principles is make things open, it makes them better.
In this case, opening up the enormous transport information database in recent years allowed hundreds, even thousands of services to bloom. Services you probably use on your smartphone, or in a web browser, every time you plan a journey, switch on your satnav, or buy a train ticket.
Government should do only the things that only government can do. In this case, government had the data, and the sensible thing to do was open it up, make it available, and see what the rest of the world can do with it. As it turned out, the rest of the world made a bunch of transport planners and searchable timetables and ticket-buying apps that were far, far better than anything government could have done.
We made things open, and that made them better.
Of course, there will be some people who are sad to see Transport Direct go, not least the team responsible for building and maintaining it, for whom I have nothing but the greatest respect. They built a genuinely useful web service that was way ahead of its time.
And in that sense, it was a success. It demonstrated a need and paved the way for where we are today, but now we need to move on. It's now a service that government does not need to  provide. The money spent on it can now be spent on other things - things only government can do.