Today we are very pleased to release the Worldwide section of GOV.UK, which explains the structure and activities of British government organisations in over 200 locations around the world.
Worldwide (www.gov.uk/government/world) is the new home on the web for the overseas web presences of DFID and FCO, and much of UKTI's international-facing content (ahead of a wholesale transition later this year). These location profiles will be frequently updated to set out the government's response to international events, present case studies of diplomacy, development and trade in action, and provide information about senior staff responsible for overseeing that activity.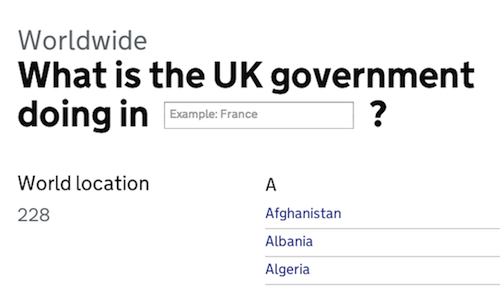 These sites have the job of engaging both UK citizens and those overseas, will be published in 44 languages and maintained by a network of 440 publishers based in the actual embassies, consulates and other government offices around the world. All of which makes Worldwide a very exciting addition to GOV.UK.
Simpler, clearer, faster
Worldwide takes over from some long established and well-used sites and attempts to tackle a number of challenges troubling those sites by making them simpler, clearer and faster.
In 2012, for example, 56% of the pageviews on FCO's previous platform were on its overseas sites. Yet despite the demand for the content, users were struggling with complex architecture, noisy page designs and six year old infrastructure that was fast depreciating.
User frustrations were matched by the FCO's publishers who struggled with their content management system's stodgy performance, especially in overseas posts with unreliable telecommunications. Recurring problems forced FCO staff to adopt a number of 'workarounds' and lowered their expectations of what a publishing platform should be capable of.
What on earth is going on?
Tackling these issues head-on has been our goal, and we have started by clarifying the purpose of Worldwide by bringing three separate sites into one and making corporate information their focus.
Now, if someone is interested in how the UK government is working with Ethiopia, for example, they can rely on one site instead of having to visit separate sites for DFID, FCO and UKTI. On the location landing page they can see what is happening at a glance, and then dig down into more detail. The user can browse the activity of a particular organisation in that location (such as the British Embassy in Addis Ababa) or follow cues to the main FCO site where they can learn more about the policies framing the department's work in that country and region.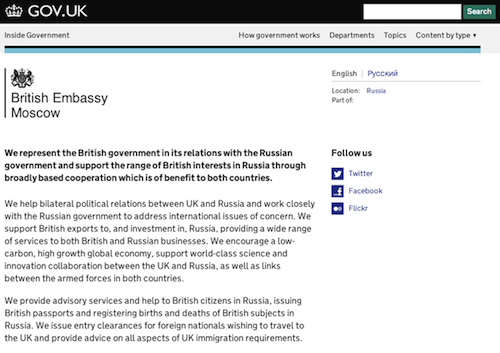 In some cases, the previous sites also housed services but these have now been moved over to live alongside the rest of the guidance, tools and transactions on the Passports, travel and living abroad section of GOV.UK. You can read more about this aspect of the transition in Sara Bowley's post.
Get your priorities straight
Government organisations overseas carry out a range of duties ranging from bilateral diplomacy to providing consular support. A new page type, called 'Priority', provides detailed accounts of this significant work in each location, and most announcements and case studies published overseas will be linked to these priorities and displayed on the 'Latest' tab.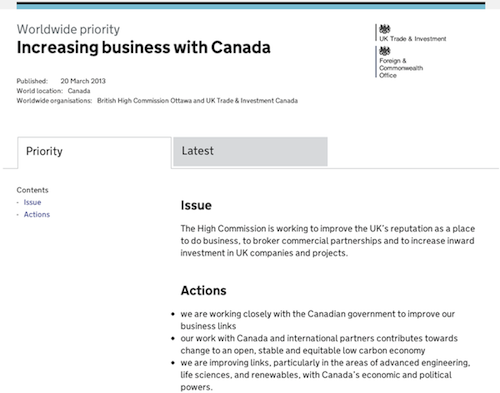 From the titles of the priorities, it may seem that there is some repetition; for example, most Worldwide location sites will carry a priority called 'Supporting British nationals'. But when you read further you will find that keeping British nationals safe in Spain is quite a different thing to keeping them safe in Mongolia or the Antarctic.
The languages of diplomacy
In many cases the priorities, as well as case studies and announcements, will be translated into one or more local languages, with the options highlighted to the user at the top right corner of the page. Translations are all done manually and this is the first step into dynamic, multi-lingual publishing on GOV.UK.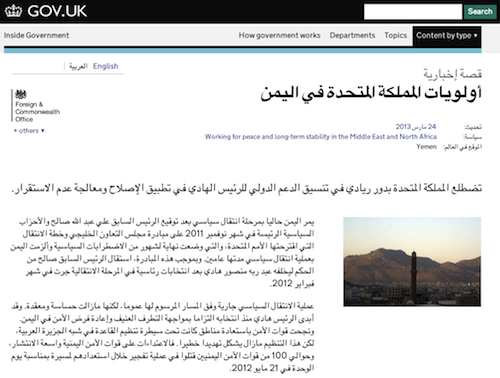 The languages available include those using non-Latin characters and requiring right-to-left templates. As well as translation of the body content, the FCO is translating page labels to help those who don't read English navigate around the site.
Contacting us
The UK government has hundreds of overseas 'posts'. An organisation may have a number of offices spread across a country or even many offices within a single complex. In each case, the office will have contact data, such as a postal address, telephone numbers and email addresses, as well as instructions for people wishing to get in touch with or visit that office.
We have been exploring how to deal with both repetition of information and customisation for specific offices in a way that doesn't overwhelm the user. And we have begun exposing this data via an application programming interface (API).
Indeed, the API is already being used to inform a number of consular services provided on the mainstream section of GOV.UK, like Foreign Travel Advice and Getting a British passport overseas.
Concentrating on content
To ensure that the contact information and other Worldwide content is accurate and compelling it will be managed directly by publishers around the globe. These are people with the necessary expertise but who have many other responsibilities and operate in testing circumstances, and for whom digital publishing is often only one part of their job.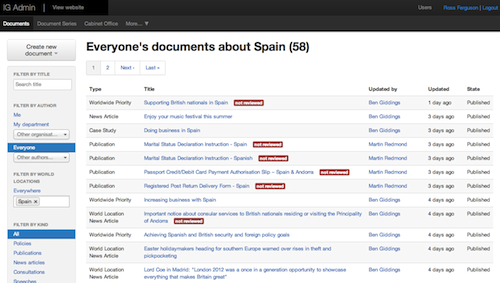 We believe that the publishing app that they now have is quicker and easier to use, built as it is from the ground up expressly with their needs in mind. We hope that this will resolve previous concerns about technology and enable them to concentrate on producing fantastic content that explains their goals and achievements.
A world of ideas
Although it is built on the solid foundations of Inside Government, the design and development have been a major undertaking for our team. Taking place over just three months, the process has been nothing short of exciting and we look forward to now seeing how this first iteration performs.
We had the benefit of a beta last year, the analytics from the old sites and feedback from the publishers, but what we are desperate for now is feedback from users. We have lots of ideas for further development and we are sure that they will too, so keep an eye on this blog and the Inside Inside Government Tumblr for updates on our progress.
Team effort
All that remains is to applaud the work of the Inside Government developers and designers, and to say a major thank you to FCO's Adrian Chapman and Paul Hosking, DFID's Peter Lamb and Ros Connolly at UKTI and their numerous colleagues in the UK and further afield who have helped us to get to this point.