Last Saturday marked 100 days since the new e-petitions service was launched by GDS and the Office of the Leader of the House of Commons. The service continues to be incredibly popular -on average 18 people have signed an e-petition every minute since the service started.
e-petitions also maintains a very high social and mainstream media profile, with significant television and press coverage, especially when a petition nears or reaches the 100,000 signatures threshold required to trigger a debate in Parliament.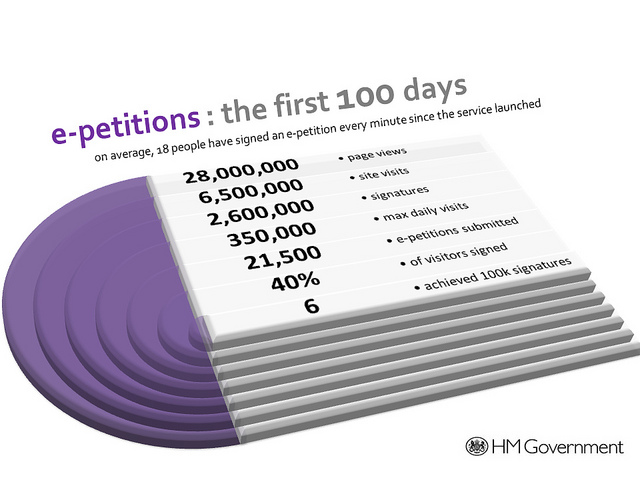 There isn't much of a pattern in terms of traffic to e-petitions on a day to day or week to week basis, with the range of daily visitor numbers to the site fluctuating between 2,000 and 350,000. It's also interesting to note that approximately half of all submitted e-petitions are rejected for failing to meet the service's terms and conditions - including duplication, defamation and relating to things the government can't act on.
As I write there have been six e-petitions that have achieved the target of 100,000 signatures  (one of which has now closed) and are now eligible for debate in the House of Commons.
Of the six e-petitions which have passed the 100,000 threshold, two have been debated (the London riots and Hillsborough petitions), two are scheduled to be debated (Fuel Duty and Babar Ahmad – as part of a wider extradition debate) and one has been accepted for debate but will not be scheduled until the new year (Immigration). The only other outstanding petition, financial education in schools, is waiting for an MP to approach the Backbench Business Committee (who schedule e-petition debates), which should happen this month.
Despite some initial concerns voiced in social media (and ironically the subject of a number of e-petitions) that 100,000 signatures was too high, it is interesting to note that most of the petitions that have reached this target, have done so within one week - despite a 12 month allowance. Sitting and watching the Twitter stream when popular e-petitions receive media coverage or other high profile promotion, it's easy to see how.
Commenting on these statistics, the Leader of the House of Commons, Sir George Young MP, said
"I welcome the positive public response to the e-petitions site, which is an important way of building a bridge between people and Parliament."
The special relationship
Not long after we launched e-petitions, the White House  announced they are were also about to launch an online petitions service - 'We the people'. In doing so, they acknowledged having kept a keen eye on our work with e-petitions. Although there are enough differences in the way the systems operate to make direct comparisons a bit misleading (the US target for a response is 25,000 signatures, just increased from 5,000;  you get a formal response in the US rather than a formal debate in the UK; and the US, of course, has about five times the population of the UK) a quick look at the numbers can still be instructive.
'We the People' received 12,000 petitions and collected 1.2 million signatures in just over a month, at around 31,000 per day. Some quick number crunching shows a similar volume and rate of petitions and signatures between the two services in the early days.
What does this tell us? Well, what it does make clear is that there is a real appetite for online petitioning and that the widespread use of social media can make them a powerful tool for engaging with governments.
Iteration, iteration, iteration
Since we launched e-petitions, we've made a number of improvements to the service, including updates to the FAQ list, the addition of a feedback mechanism, increasing capacity to meet the higher than expected demand and  fixing the issues we faced on launch. As a result of this feedback, we are engaging across government and planning a release to add some of the more commonly requested features from users, ensuring that e-petitions continues to meet their needs. At that point, we'll share the open source code. Here's to the next 100 days….
Peter Herlihy is the Product Manager for e-petitions and Delivery Manager for the @GovUK corporate platform.