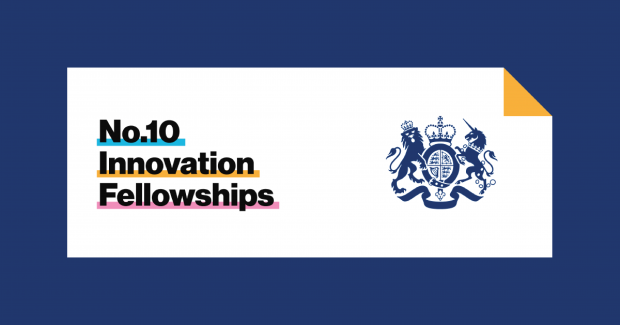 The No.10 Innovation Fellowship Programme is a new flagship scheme run in partnership by Number 10 and the Government Digital Service (GDS) to attract top talent from the digital and tech sector into senior positions in government. Around 10 fellows will join teams across the Civil Service in solving some of the toughest challenges the government faces today through their technical expertise.
Fellows will be offered a 12-month contract at Deputy Director (SCS1) level, with the possibility of extension for a further 12 months. Fellows will help transform the delivery of public services and build solutions to some of the government's biggest challenges, by accelerating the adoption of cutting-edge technologies and approaches from across the private sector.
The programme has been developed by working closely with our advisory board of digital and tech leaders from across the public sector, who have provided feedback and guidance on the programme.
The final 5 fellowship projects came from an internal competitive bid process. We received 46 bids from a total of 26 different government departments and agencies.
The 2021 fellowship cohort will be working on important digital innovation projects with 5 central government departments across England. The projects are:
Ministry of Defence - Serious games: using deep reinforcement learning to support planning for military operations

Department for Education - Harnessing the potential of digital solutions in education

Foreign, Commonwealth and Development Office - Unlocking the power of data to address humanitarian crises

Department of Health and Social Care - Designing high-impact data solutions in the fight against coronavirus (COVID-19) and beyond

Ministry of Justice - Using digital solutions to better manage offenders in the community 
What similar programmes have achieved
The programme is modeled on the hugely successful US Presidential Innovation Fellowship scheme, which has attracted leading talent beyond the reach of most federal agencies. Hires have included the lead developer of Google Maps and the Co-Founder of the Earth Genome Project.
As part of this programme the US fellows have had significant impact. One project concerned the delivery of the healthcare.gov site, which has saved lives by improving access to healthcare records via the Blue Button Project. Another project enabled the Smithsonian Institute to digitalise over 137 million artifacts. This resulted in an end-to-end solution for creating digital records for historic files, enabling them to be more informative for researchers and members of the public.
Successful applicants of the scheme will have a potential career path for senior leadership roles in the Civil Service. Similar programmes in Canada and the US have seen over 50% of Fellows apply for senior leadership roles in government at the end of their fellowships and be successful.
The ideal applicants
We want to attract a range of diverse and talented individuals who are used to delivering at pace, have strong leadership skills and are innovative. We are interested in those who have excelled in their field and who have the power to influence those around them to do their best work.
In the selection process, we will pay close attention to the domain and technical expertise needed by departments, and also consider how teams of fellows will operate together.
Successful applicants will have excellent understanding and experience of applying cutting-edge approaches in one or more of the following areas:
data science

artificial intelligence

machine learning

data engineering

product management

systems design

user-centred design

experimental or quasi-experimental methods

software development
To see the full list of desirable skills please read the DDaT Capability Framework.
What it's like to be an Innovation Fellow
Fellows will work in small teams on projects that are technologically challenging, highly impactful and deliverable within a year. During the application process, candidates will be matched with departments who are looking for their skill set in addressing high priority challenges.
The programme will also reserve a fifth of fellows' time to participate in induction, coaching and networking events, and to pursue personal projects with other fellows where they can make an impact.
Next Steps
If you are interested in applying please visit the No. 10 Fellowship website for more information.
The application window is open from 10 to 28 March; however, applications may close earlier depending on the number of applications we receive. If you are interested in applying, we encourage you to apply as early as possible.