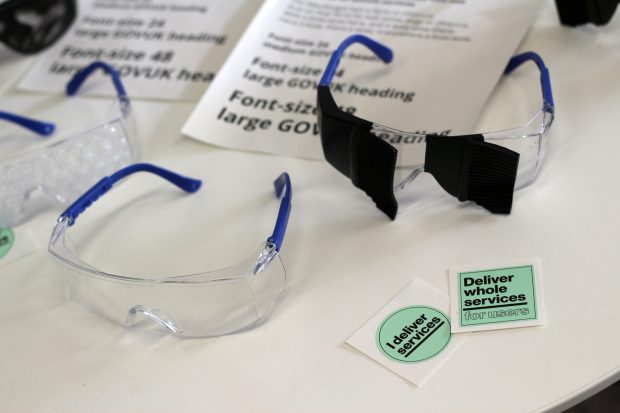 At GDS our ambition is to make services as accessible and inclusive as possible, to ensure there are no barriers that might prevent people from interacting with government.
Where we've been
We've grown the cross-government accessibility community to over 1,000 members and established an Accessibility Leaders Network.
Awareness of accessibility across government is growing: we've set up an accessibility empathy lab and delivered training courses to hundreds of civil servants.
We've recently built a service to monitor the accessibility of public sector websites as well as ensure that all of our own products and services at GDS meet international standards.
Now we're looking for a new Head of Accessibility to build on this work and help make the UK government a world leader.
Where we're going
GDS needs a thought leader and champion of accessible and inclusive services. We need someone who can continue all of the amazing work we're doing to support digital transformation, keep building a culture around accessibility, and lead the community on to new challenges.
We need an experienced practitioner to design and deliver an accessibility strategy for whole services that are end-to-end, work across all channels, and are fully inclusive.
They will need to be comfortable working with a wide range of stakeholders, be able to quickly build credibility and lobbying groups inside and outside of government.
Working in the Service Design and Technology Standards area, they will support GDS' 2030 Vision of a government that is joined-up, trusted, and responsive to all users' needs.
The rate of technological change means that a government in 2030 will be operating in a very different context and with different user expectations and interactions. The Head of Accessibility will need to look ahead and keep pace with changes in technology, and support government to meet the most complex needs.
'This is for everyone,' is one of the government design principles. It means that from the start, we will design for the people who need our services most, but find them hardest to use. We're looking for someone to carry the message that accessibility is equally everyone's responsibility and work to embed it at the heart of government service design.
How to apply
You can find more information about the role and how to apply on the GDS careers site.
Applications close on Tuesday 25 February 2020 at midnight.