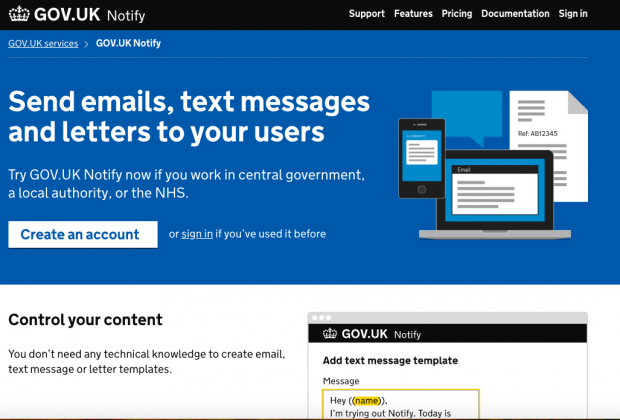 Over 150 local authorities use GOV.UK Notify to send emails, text messages and letters. These organisations often have to deliver complex public services with limited resources.
Here are 5 examples of teams that use Notify to save time and money, and build better services.
Sending one-off messages at short notice
Bracknell Forest Council started using Notify in April 2018. As well as council tax and local election reminders, they've also used it to send one-off messages.
When 7,400 Direct Debit payments were unexpectedly delayed, the council sent a text alert. They quickly set up a new Notify template and uploaded a list of the phone numbers of people who were affected.
Using Notify to keep residents informed helps to improve customer satisfaction. In this case, warning people in advance about the delay reduced the number of phone calls to the council.
Saving money by sending text messages instead of letters
Dacorum Borough Council uses Notify to text people who forget to pay their council tax. If residents pay after receiving a text, the council does not need to follow up with a formal letter.
In one 3-month period, Dacorum sent 3,000 fewer letters, saving them £5,000 in printing and postage. They also issued 400 fewer court summons for non-payment of council tax. Dacorum estimate that this saved residents over £22,000 in legal fees.
Based on this success, Dacorum's waste collection team has started using Notify too.
Providing a free service for people affected by air pollution
The Sussex Air Quality Partnership (SAQP) uses Notify to warn people about air pollution. Residents can subscribe to airAlert, a free service that sends them a text when local air quality is poor.
Because they send fewer than 25,000 texts a year, it's completely free for SAQP to use Notify. This means they can invest the money they save in other projects instead. For example, reducing nitrogen dioxide emissions from idling vehicles.
SAQP also uses Notify to run 2 text alert services for extreme temperatures – coldAlert and heatAlert.
Reducing the number of missed appointments
Each month, Gravesham Borough Council makes an average of 232 bulky waste collections. If residents forget to put their rubbish out, they have to pay £27 for a new appointment.
In November 2017, Gravesham used the Notify API to set up a text message reminder service. When residents book a collection, they can sign up for a reminder too. Reminders are automatically sent at 7pm the evening before collection day.
Each month, 77% of people ask for a reminder when they book and there has been a 50% drop in missed appointments.
Other teams at Gravesham Borough Council have started using the Notify API too. The taxi licensing team uses it to send reminders for vehicle, MOT and licence checks.
Sending personalised emails in high volumes
The School Admissions team at Buckinghamshire County Council uses Notify to send personalised emails to parents. The email tells them when to expect school offer letters and waiting list positions. They also direct parents to the website for further information.
The council has sent 96,000 emails with Notify since April 2018. During that time the number of phone and email enquiries has reduced.
Medway Council also sends school admission test results through Notify.
To send a bulk email to 3,500 parents and guardians, they upload a list of email addresses and test results. Notify merges the data with a reusable message template, then sends an email to everyone on the list. Once the emails have been sent, the council can check which, if any, could not be delivered.This report is useful in case of an appeal by a parent or guardian.
Medway Council is now planning to use Notify to send reminders about all school placements.
If you work for a local authority and you need to send emails, text messages or letters to your users, visit www.gov.uk/notify.

If you're already using Notify and you'd like to share your story, let us know or leave a comment below.