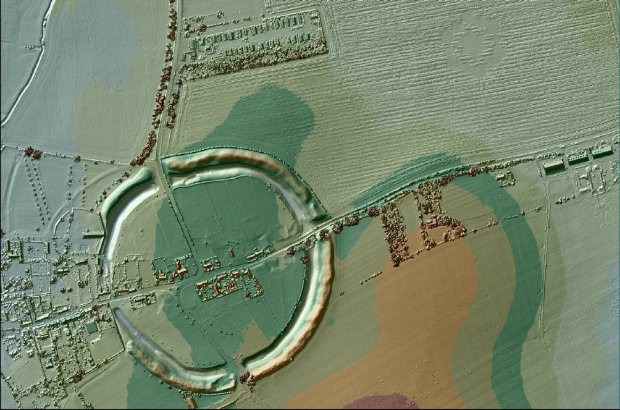 This image was taken using LIDAR (Light Detection and Ranging) technology, by shooting a laser beam down to the ground from an aircraft. LIDAR is useful for all sorts of applications, and the Environment Agency (an arms-length body under the Department of Environment, Food and Rural Affairs - Defra) has huge archives of LIDAR data covering 72% of England. In a few weeks, that entire data set will be available for free, as open data, to everyone and anyone who wants it.
This is just a small part of Defra's new open data policy, recently announced by Environment Secretary Elizabeth Truss.
Defra is putting data first
Defra has a lot of data. Its roles within farming, the rural economy, and management of the natural environment mean it collects all sorts of data about all sorts of geographical features, natural phenomena, agricultural activity, and much more besides. It's an extremely broad data set, with specific collections that can be very niche.
Crucially, and impressively, Defra has realised that its future depends on being a more data-driven organisation. So that's what has begun: Defra is focusing its efforts on thinking about data first.
The open data project has begun with an accelerator programme, designed to get at least 8,000 separate data sets out into the public domain within a single year.
Cultural change and digital change
This is more than simply opening up some spreadsheets. It's about deep-rooted culture change, shifting Defra's internal and external focus so that it's open by default. Some of the new open data will be stuff that was previously only available to those who were willing and able to pay for it. Now it will be free.
Data has to be managed and looked after, so the project also includes some work to make sure that what's made open is curated and improved as time goes on. The Defra team plans to work closely with community groups, NGOs, arms-length bodies and agencies to make that happen.
They've also set up a new Data Governance Board to provide strategic co-ordination and oversight. The board will help spot unnecessary duplication, and encourage the adoption of standards.
Defra has been working with the Open Data Institute to develop an organisational maturity model for open data. That will be used as a benchmark for future improvement plans.
So far, open data has been an urban story. Think about the success of opening up transport data, and the subsequent boom in urban transportation apps on smartphones. That gives you a hint of what opening up Defra's data could achieve. Parts of the LIDAR data set, for example, have been available for free non-commercial use since late 2013. That data set's re-release as more accessible open data in a few weeks will make it available to everyone, including commercial interests, which means we could see a marketplace of entirely new services created on top of it. Open data is a catalyst, an open door that encourages new ideas and new innovation. These ideas will benefit rural communities and businesses too.
This is great stuff from Defra. They're treating data as a public asset, which is exactly the right thing to do. If other departments are wondering what to do with their own piles of data, I have four simple words of advice: get it out there. Take a look at what Defra are doing, and see what you can learn from it.
Continue the conversation on Twitter, and don't forget to sign up for email alerts.