I've just completed a lightning tour of four UK cities. I've been speaking, and more importantly listening, to some of the leading small and medium-sized (SME) business technology companies in the UK.
Doing business with central government has often proved to be a very frustrating experience for SMEs. The admin, hassle and general form filling required - even before you get to the stage of spending precious fee-earning resources on writing a competitive bid - has long meant that doing business with government has been too expensive for our most innovative SMEs.
Stephen Allott - the Crown Representative for SMEs – and I took ourselves out of London to listen to business. We ran roadshows to explain how it's now easier to do business with government and how the government has changed its approach. And we made it clear how to win government business.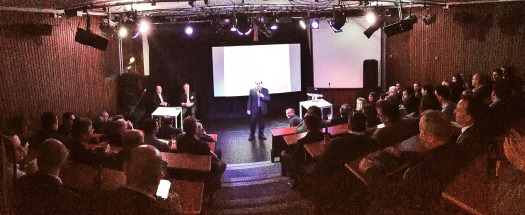 Stephen also made sure everyone knew about the tools we use to publicise upcoming contracts (Contracts Finder) and to whistle-blow if you feel you have been unfairly shut out of a procurement (Mystery Shopper).
In two days we met with over 250 businesses in Birmingham, Manchester, Leeds and finally Edinburgh. We exploded some myths, explained the government's digital strategy and learnt how we can help businesses to bring new capabilities to government, especially digital ones.
It was heartening to hear how companies had used the G-Cloud to win business, but also frustrating to hear of stories of bureaucracy getting in the way. Yet the overwhelming theme was positive – there is so much talent out there.
A huge thanks to the local chambers of commerce, and to Albert Ellis at Harvey Nash for helping us reach so many technology-related businesses so quickly.
Engaging before procuring
We also introduced the new premarket engagement workshops we're running in the Cabinet Office. Rather than just talk about early engagement, we are trialling how we can generate better solutions by using workshops. We're running workshops on the NHS e-referrals programme and the NHS Integrated Customer Services Platform, both of which will be live procurements in the near future.
At these workshops we will explain the user need and the departmental ambition in response to that need. Then we'll work with leading technology companies to see how best to design the programmes, the services and ultimately the procurement route. It's the first time government has done this, but we hope it will be a model for future commissioning of services in government.
If you'd like to know more about the premarket engagement workshops please email our team via mark.willis@digital.cabinet-office.gov.uk.
Future workshops
We want to do more of these workshops, so if you're interested in taking part, do come back to me at @liammax.