This is a guest post from Alice Newton from the Innovation Team at GDS, Cabinet Office
This morning David Cameron went to East London to mark a year of government support for Tech City, a cluster of tech, digital and creative companies that has developed out of Old Street and Shoreditch and is growing at an astounding rate. With over 600 companies, it's hard to do justice to them all - but some you might have heard of include Moshi Monsters, Moo, Songkick and Tweetdeck.

To coincide with this event, Number 10 developed an app with Mobile Roadie (themselves a Tech City company), with support from GDS. Although the app outlines new policies to support technology and business, it's a far cry from the hefty policy papers that traditionally accompany events like this. The app's big focus is on Tech City itself: what events are happening, what are people tweeting about it, what great companies like Google, Intel and Amazon are up to in Tech City.
One of the app's coolest features is the map. Credit for this goes to Charles Armstrong, the visionary technology entrepreneur and founder of The Trampery, a collaborative working space in Old Street.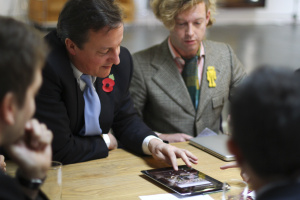 The Prime Minister visited The Trampery this morning to watch Charles unveil the map, which is intended to help those inside and outside the cluster make connections, view trends and spot gaps. It's an online plot of Tech City companies that also charts the interaction between the companies, as measured by their twitter feeds. You can choose to see which companies have shared interests, who follows who, or who mentions who, in a series of organic webs. With the ability to sort companies by their number of twitter mentions, it's a reminder that the clout of today's companies can't be measured in employees and revenue alone.
But David Cameron didn't just meet the real Charles - he also met virtual Charles. If you think this doesn't make any sense, you've reckoned without Augmented Reality. Embedded in the Tech City app is a kernel from AR company Aurasma. If you open the Aurasma tab and point it at The Trampery logo (helpfully reprinted here) you'll see for yourself. Today, we only used Aurasma to bring this logo to life, along with business cards from Songkick and Moo. But Aurasma have much more ambitious plans for Tech City, so expect to see more soon.